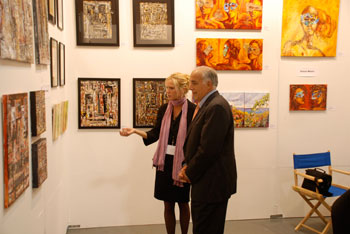 Caribbean artwork was beautifully represented at the 2nd Annual International Caribbean Art Fair in the gallery-packed Chelsea district of New York City on November 6-9th. St. George's University sponsored a booth which showcased the vibrant and distinctive collections of internationally recognized Grenadian artists Oliver Benoit and Susan Mains, along with the works of the late Canute Caliste from nearby Carriacou. Each artist's work has been inspired by the innate beauty of Grenada and its surroundings.
St. George's University's presence at the International Caribbean Art Fair played a vital role in the promotion and recognition of artwork from Grenada. It has long been a mission of the University to promote the many talented artists of Grenada in regions beyond the Caribbean.
Dr. Benoit, who is also Assistant Professor at St. George's University's School of Arts and Sciences, was pleased with the feedback he received from the many visitors to the event: "There were several people who, having recognized the University's name, shared stories of their experiences in Grenada."  Dr. Benoit explained that the most surprising revelation was the fact that everyone who visited the SGU booth had never before seen Grenadian art, further emphasizing the need to promote the talent of Island.
Dr. Benoit believes that the University's participation helped forge strong relationships with galleries and institutes in New York as well as other parts of the Caribbean.  This relationship will also benefit the new studio art program he is developing at the University.  The exciting endeavor will offer community members as well as students the opportunity to develop new skills and discover hidden talents in an environment that provides an outlet for personal artistic expression.  Susan Mains, who holds a PhD in education, is one of the art course instructors.
Chancellor Charles Modica visited the exhibition and discussed with Dr. Benoit, Susan Mains and Andréa Anderson, a representative for Grenadian artists, his desire to establish Grenada's first art museum as a permanent arena to share the artwork of Grenada with both visitors and residents.  The use of St. George's University's Caribbean House is in discussion as a possible host for the site.  Armed with museum and gallery experience in New York, Boston and Santa Fe, NM, Andréa Anderson plans to assist in this inspirational project.
Canute Caliste was a critical addition to the exhibit as he is one of the most celebrated artists of the Caribbean.  His paintings of Caribbean island life feature fishing boats, cricket matches, carnival dances and domestic rows, and usually display a great deal of humor and creative interpretation.  Caliste died at age 91 having lived a full and eccentric life as a painter, musician and boat builder.
Dr. Oliver Benoit is an abstract painter for 30 years whose works exemplify bold, theoretical statement.  Dr. Benoit creates in two mediums: watercolors and encaustic, also known as hot wax painting.  Encuastic involves adding colored pigments to heated beeswax and then applying this to a canvas or other material.  Educated in the United Kingdom and the United States, Dr. Benoit's abstract designs are displayed by private collectors throughout the globe.
Susan Mains, a self-taught artist for more than 20 years, is a dual citizen of the United States and Grenada and has exhibited with Dr. Benoit previously.  Her striking landscapes and dramatic figurative paintings are motivated by conceptual ideas and are sought after and collected internationally.
Both Dr. Benoit and Ms. Mains compose works with harmonious colors that create layers of texture and are both visually pleasing and symbolically meaningful in their content. While their styles are contrasting, they share a common underlying emotion which is complimentary when displayed together.
The two artists will be featured in an interview for Black Entertainment Television (BET) on Channel 185 at 2:30pm on November 29th.  The program is called "When a Wallo Talk."  An online publication titled Caribbean Art Magazine (CAM) will also be publishing one of Susan Main's articles titled, "The Visual Arts in Grenada:  A Sustainable Resource."

Published on 11/21/08
https://www.sgu.edu/wp-content/uploads/2016/11/Grenada-Art-Fair-NYC.jpg
234
350
Erin Shaw
https://www.sgu.edu/wp-content/uploads/2020/02/sgu-logo-grenada.svg
Erin Shaw
2008-11-21 04:13:13
2017-01-18 02:14:21
St. George's Sponsors Grenada Exhibit at NYC Int'l Art Fair