On Friday, November 7th, a group of dedicated St. George's University School of Medicine students who are part of the Women in Medicine (WIM) organization assisted 20 young women whose education has been interrupted as a result of teenage pregnancy.  In Grenada, women who become pregnant at an early age are not permitted to return to secondary school to complete their education.

For many years, WIM at St. George's University has joined the Program for Adolescent Mothers (PAM) to assist the young women of Grenada who struggle emotionally and financially to care for themselves and their infants.  Originally established in Jamaica in 1978, PAM offers numerous outreach services to this community of young mothers, providing education and skills training, medical care for themselves and their children, and much needed guidance and counseling.
According to SGU's Dr. Cheryl Macpherson, Professor and Chair, Bioethics Department, this year's PAM event, which was held at the Caribbean House on True Blue campus, was particularly impressive.  "The Women in Medicine student volunteers are driven to build upon the initial goals of the Program for Adolescent Mothers.  This year, several of the young mothers expressed an interest in the field of medicine as a career option.  WIM volunteers responded enthusiastically as they incorporated an approach that provided inspiration and education for these women's future."
The half-day event was divided into four dynamic work stations designed to generate awareness on various health issues.  The first session addressed prevention of breast cancer through self-examination; the second demonstrated the importance of physical activity for both adults and children; the third session counseled these young women on how to gain self-confidence and self-worth; and the final session showed them techniques on how to relieve stress through yoga and meditation.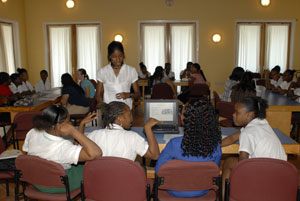 According to Orapeleng Phuswane, a second term student from Botswana who with her counterpart Charmi Shah organized the PAM event, "This year in particular, the young participants were extremely engaged and eager to learn about ways to improve their health and that of their children."  Orapeleng explained that a casual lunch on the beach provided a relaxed, non-judgmental environment for the girls to open up about their situations and concerns for the future.  Next term, as PAM executive members, Orapeleng and Charmi hope to include a tour of anatomy labs to address many of the young women's interest in medicine and further expose them to the opportunities that are available.
"While this program is very small and sadly under funded," said Dr. Macpherson, "it is critical to the overall well-being of the community."  It is her hope and that of the SGU community-at-large that the continued efforts of Women in Medicine and PAM will eliminate the trend of adolescent pregnancy.
https://www.sgu.edu/wp-content/uploads/2020/02/sgu-logo-grenada.svg
0
0
Erin Shaw
https://www.sgu.edu/wp-content/uploads/2020/02/sgu-logo-grenada.svg
Erin Shaw
2008-12-01 04:17:56
2017-01-18 02:12:25
St. George's Students Assist Grenada's Youth