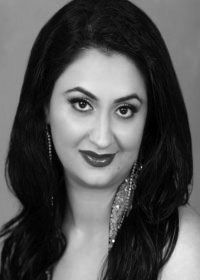 Dr. Vidushi Babber, SOM Class of '99, has successfully combined her two life passions:  the practice of medicine and the fundamental desire to care for and educate people with an innate talent for creative television production.
As Executive Producer and Host of PRN, Dr. Babber appears on the Pan Desi network on CoLours TV each week, educating viewers and physicians on the most current and relevant topics in medicine.   Now moving into its second season on America's premiere Satellite TV, PRN, the abbreviation for "pro re nata," which means "as needed" on medical prescriptions, was aptly named by Dr. Babber.
The 30-minute episodes were created to appeal to a broad audience and use a uniquely casual format which incorporates several dynamic and appealing segments.  Dr. Babber explained that to avoid losing the large audience, which is upward of 50 million viewers, she helped create a very comfortable atmosphere on the set by introducing and referring to expert physicians and researchers almost exclusively by their first names.
All of the 13 currently produced PRN episodes open with "street interviews" of "regular people" gauging their knowledge and opinions on common medical topics, such as diabetes, depression, and anti-aging.  This segment provides an effective tool to help battle the many myths and misconceptions of lay people and provides a seamless segue into the clinical information and education provided by the experts on set.   Other regular segments include a "Resident Report" which gives a summary of recent research and "Better Believe It" which documents marvels in medicine.
Throughout the past season, Dr. Babber enlisted the talents of fellow SGUSOM alumni who frequently join her on set.  On the upcoming episode of PRN, Dr. Nilay Shah, Class of '98, will discuss "Stroke in America," and help to educate the audience on its prevention and recognition of its symptoms.  Of his experience, Dr. Shah said, "It was a lot of fun to take part in the PRNtaping.  Sharing my expertise with a wider audience in this format was an exciting experience, and I look forward to working with Vidushi and the whole gang again in the near future.  As an alumnus of a truly unique school, it's nice to be part of a 'family of doctors' from St. George's University who cover all aspects of medical expertise and occupy nearly every geographic region in the US."
Dr. Babber, who spends several weekends a month in PRN's New Jersey studio, explained that the second season will introduce more current event focused topics, such as health care reform and insurance issues that concern the medical profession. An advisory board of accomplished physicians is consulted on a regular basis for suggested topics and ideas.
Dr. Babber was educated in the United States before attending St. George's University School of Medicine.  She is from Washington DC, where she is the Medical Director at Key Point Health Services.
Her commitment to St. George's University is steadfast, stemming from a loyalty and sense of gratitude that developed from the moment she arrived in Grenada. Dr. Babber made a promise to herself that should an opportunity to spread the word about the excellence of her medical alma mater arise, she would embrace it with the same passion and sincerity she does her life's work.
After Dr. Babber graduated from SGUSOM, she pursued a successful career in psychiatry. The recipient of numerous awards and honors, she was named one of America's Top Psychiatrists in 2007.  She dabbled a bit in various media forms during her undergraduate years, and had long hoped to establish a dynamic and innovative communication to educate and serve the people.
PRN airs on the Dish Network every Sunday, Tuesday, and Thursday between 9 pm and 12 am. To view an episode: http://www.youtube.com/watch?v=0ZMNmj21U80
https://www.sgu.edu/wp-content/uploads/2016/11/news-Dr-Vidushi-Babber.jpg
280
200
jrichardsink
https://www.sgu.edu/wp-content/uploads/2020/02/sgu-logo-grenada.svg
jrichardsink
2009-12-03 16:39:55
2017-01-18 01:47:14
St. George's University Alumna Dr. Vidushi Babber Hosts and Produces National TV Show