SGU had a contingent of 22 Anatomy students, accompanied by Associate Professor Marios Loukas, at the annual meeting of the American Association of Clinical Anatomists (AACA) in Milwaukee from July 10-15, 2006. Armed with four oral and 18 poster presentations, the SGU group was a large, positive, – and winning – presence.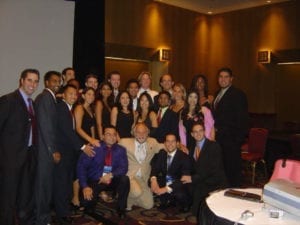 Two of the SGU students, Jorge Bentacor and Lisa Cadoo, won the Sandy C. Marks Jr. award for their poster presentation entitled "The clinical anatomy of the greater and lesser splanchnic nerves." Competition for this award was extremely high with 55 students from different medical schools, including Albert Einstein, Mayo Clinic, Michigan State University, University of Toronto, competing for it.
Dr. Marios Loukas, a longtime attendee at the AACA meetings, had never been accompanied by so many qualified and dedicated students. "The group showed an amazing degree of professionalism but most importantly a high degree of knowledge and dedication," Dr. Loukas said. "We were by far the best group of students both scientifically and socially; we were a big presence." The SGU students were the largest group of medical students from one school to ever attend the AACA annual meeting.
In order to be able to attend, the students had to meet certain criteria: Honor students with no failing grades, and they had to have done significant research. They also had to be eager to attend. The 22 students met before a Congress earlier in the year, submitted their abstracts, presented their work, and were chosen to be delegates.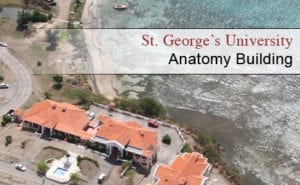 In addition, Dr. Peter Abrahams, Professor of Anatomy, at SGU, was the honored member of the AACA for 2006, the highest form of recognition from the association. In addition to teaching part time at SGU, Dr. Abraham also teaches at Cambridge University as a Fellow of Girton College. His devotion to anatomy, medicine, art history and the developing world are evidenced in his clinical practice and many activities in all of these areas.
"I would like to thank all the people that helped us performing our research and most importantly believed that we could win this important award," Dr. Loukas concluded. "The students of SGU were the best ambassadors of the school and provided to the Anatomical World the proof of the high quality students St. George's University attracts and produces."
Please visit AACA's website for more information on this year's meeting and the award: http://www.clinicalanatomy.org/news.html
Published on 08/31/2006
https://www.sgu.edu/wp-content/uploads/2016/10/Group-Photo-at-the-AACA.jpg
324
432
smashm3233
https://www.sgu.edu/wp-content/uploads/2020/02/sgu-logo-grenada.svg
smashm3233
2006-08-31 20:23:12
2017-01-18 03:06:13
St. George's University Anatomy Students Succeed at the American Association of Clinical Anatomists (AACA) Annual Meeting