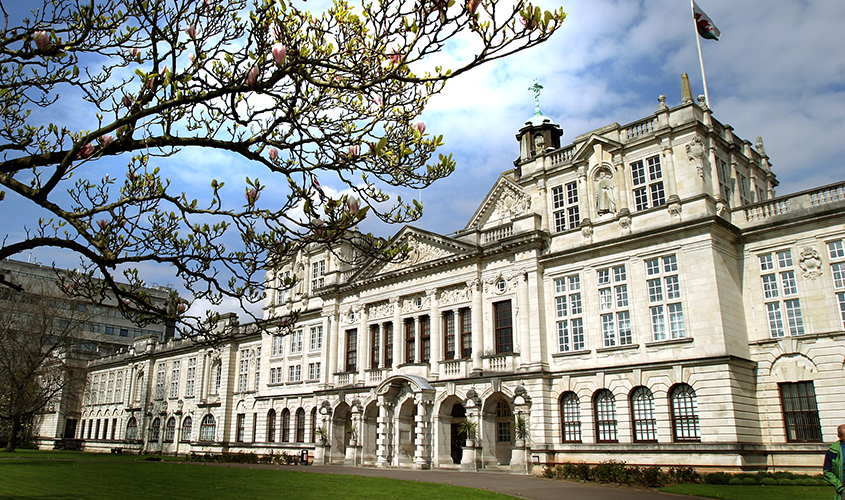 An agreement has been made between St. George's University and Cardiff University in Wales that will provide opportunities for students to participate in exchange programs to bolster their training and further develop international partnerships between leading healthcare institutions.
The new five-year agreement, signed between SGU and Cardiff University's School of Healthcare Sciences, will pave the way for students studying nursing, midwifery, physiotherapy, occupational therapy, radiotherapy, and operating department practice to spend three weeks studying at the partner university, gaining international experience and new professional connections.
Under the agreement, exchange students will continue to pay tuition fees to their home university, with the host university waiving their tuition fees for the duration of study. They will be fully registered members of the host university, and have the same access to all academic, support, and recreational services as the resident student body. They will also receive a Statement of Attendance for their period of study at their host institution.
"We're delighted to have struck this new agreement with Cardiff University," said Dr. G. Richard Olds, President of SGU. "It is a testament to the growing prominence of SGU as a highly regarded international center of healthcare education, and a strong endorsement of both our programs and our students—recognized around the world for their quality."
This new exchange program with Cardiff University will allow SGU students to benefit from studying with one of the top-ranked research departments in the UK. In turn, Cardiff students will have the chance to further their education at our beautiful True Blue campus in Grenada, alongside their contemporaries from more than 140 countries around the world.
"Our school in Cardiff University is committed to enhancing global networking. This MOU allows healthcare students an opportunity to experience healthcare education and practice in a different cultural context," said Professor Dianne Watkins, Cardiff University Deputy Head of School, International and Engagement. "The first exchange of nursing students is underway and they are very excited to be part of this collaboration. We hope our partnership with St. George's University will develop further and encompass opportunities for teacher exchange and joint research in the future."
The partnership compliments SGU's existing UK presence, with all MD students already offered the opportunity to undertake the first year of their program at Northumbria University in Newcastle-Upon-Tyne, as part of the Keith B. Taylor Global Scholars Program—now in its 12th year. SGU students can also take advantage of third year core placements at 16 NHS affiliated UK hospitals.
SGU recently signed a Memorandum of Understanding (MoU) with Health Education England (HEE), which is expected to enable 50 to 100 SGU graduates every year to undertake postgraduate training in England. Under this agreement, SGU School of Medicine graduates will join the Widening Access to Specialty Training (WAST) Program, an initiative within the NHS to recruit overseas postgraduate doctors into underserved specialisms, including General Practice and Psychiatry.
https://www.sgu.edu/wp-content/uploads/2018/08/main-building-20345.jpg
500
845
bpmauser
https://www.sgu.edu/wp-content/uploads/2020/02/sgu-logo-grenada.svg
bpmauser
2018-08-17 18:39:11
2018-08-17 18:46:01
St. George's University and Cardiff University Create New Student Exchange Program