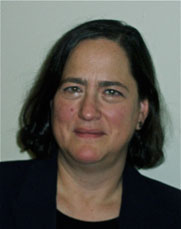 Dr. Amy S. Hoffman has been named Chair of St. George's University's Department of Psychiatry.  She has been involved with St. George's University since 2005 as a Professor of Psychiatry, Clerkship Director, DME and Associate Chair of Psychiatry.  Since January 2009, Dr. Hoffman has served the University as Interim Chair of the Department of Psychiatry, "filling the very big shoes," she said, of St. George's University's previous Chair of Psychiatry, Dr. Marvin H. Lipkowitz. Dr. Hoffman is delighted and proud to take on this role from such an esteemed colleague; an individual she views as a mentor in many different capacities.
Dr.  Hoffman received her Doctor of Medicine degree from the Medical College of Pennsylvania in 1980.   Since then, her career has been marked by influential positions within Departments of Psychiatry of some of New York's most high profile and reputable hospitals. Her last 18 years have been dedicated to the clinical administration of two hospitals within the New York City Health and Hospitals Corporation, the largest municipal hospitals and health care systems in the United States.
From July 1991 through January 2009, Dr. Hoffman served Queens Health Network in several key positions, including Director, Residency Training; Director, Chemical Dependency Services; and Director, Ambulatory Behavioral Health.   In January 2008, she assumed the position of Chair, Department of Psychiatry at Lincoln Medical and Mental Health Center in the Bronx, responsible for all department operations including the provision of clinical services, undergraduate and postgraduate education and training, and maintenance of accreditation.
In this capacity, Dr. Hoffman was successful in recruiting St. George's University students into Lincoln's clinical program in psychiatry. This, she describes as a "win-win for both the students and the hospital– the hospital has access to a pool of well educated and motivated students, and Lincoln, as a busy, urban teaching hospital, provides these students with a wealth of clinical opportunities."  With approximately 30 St. George's University medical students performing their clinical rotations at Lincoln Medical and Mental Health Center each year, Dr. Hoffman is continually impressed by their ambition and passion.
Dr. Hoffman points out that St. George's University is well represented by faculty and staff at Lincoln and within HHC.  For example, the Associate Chair of the Psychiatry Department, Dr. Laurence Dopkin is a 1998 SGUSOM graduate, and is joined by several residents who are also SGUSOM alumni. Collectively, Dr. Hoffman believes they provide a meaningful opportunity to "pay forward" to St. George's University medical students.
Since the vast majority of residents in New York are educated at international medical schools, having such a qualified staff and faculty with a similar education is a tremendous asset.  In fact, Dr. Hoffman frequently draws from her own educational experience abroad, one which she feels provides a unique perspective and cultural sensitivity that is critical to today's medical practices.
Dr. Hoffman received a bachelor's degree in Psychobiology from Yale University in 1976. The same year she applied to medical school, and found herself in a large pool of capable yet disheartened colleagues who were not accepted into US medical programs due to an extreme peak of medical school applicants in that year. Determined to not let this delay her academic pursuits, Dr. Hoffman applied to the Faculte Libre de Medecine, and spent her Basic Sciences years in Lille, France.  Dr. Hoffman frequently shares this experience with students as an example of how the process of transforming a "setback" into a "success" can be used as a positive influence for students, trainees and patients.
Dr. Hoffman is Board Certified in General Psychiatry, with added qualifications in Addiction Psychiatry and Forensic Psychiatry.  A native of New York, she resides in Manhattan with her partner and their 13-year-old son.
https://www.sgu.edu/wp-content/uploads/2020/02/sgu-logo-grenada.svg
0
0
Erin Shaw
https://www.sgu.edu/wp-content/uploads/2020/02/sgu-logo-grenada.svg
Erin Shaw
2009-11-12 04:49:43
2017-01-18 01:47:53
St. George's University Announces New Chair of Psychiatry