An Ideal Premedical Program for Motivated, Non-Traditional Medical School Students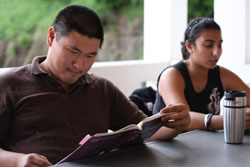 St. George's University is excited to announce a new Postbaccalaureate Premedical Program designed to meet the needs of college graduates who wish to pursue a medical education but may not have taken the core science courses required for admission to the Doctor of Medicine program. Offered in St. George's University School of Arts and Sciences beginning with a charter class in August, 2011, the Post Baccalaureate Premedical Program is a 12 month pathway to the School of Medicine's MD degree program.
The Postbaccalaureate Premedical Program is ideal for motivated students who do not have the required science foundation to enter the MD program. Applicants must have completed a bachelor's degree or higher to be eligible to apply for this program. Generally, the program is not intended for students who have applied to medical school in the past or have previously taken more than half of the science courses required for medical school.
Dr. Robert Jordan, St. George's Associate Dean for Enrolment Planning and Admission is enthusiastic about the potential of the new program. "St. George's new Postbaccalaureate premedical program provides non-traditional students, who after a obtaining a bachelors degree and working for a number of years, question their life goals and seek a way to enter the medical profession."
The Postbaccalaureate Premedical Program permits students to complete the prerequisite science classes via an intense curriculum with a guaranteed pathway to medicine. Subsequent admission to the Doctor of Medicine program requires:
3.5 GPA upon completion of the Postbaccalaureate Premedical Program
A passing score on the Postbaccalaureate Comprehensive Exam
Competitive MCAT score (North American candidates only), within 3 points of the average MCAT score for the entering class.
A recommendation from the Dean of Basic Sciences
"Students have the option to do a Postbaccalaureate in the states, but the appeal of direct entry into the St. George's MD degree program and the international aspects of our university appeal to many students," said Jordan. "We have had many students inquire about a Postbaccalaureate program at St. George's and we are happy to now be able to offer this option."
Students with an undergraduate GPA of 3.0 or better are encouraged to apply. While not required as part of the application, volunteer work or employment in a health care setting is highly recommended.
Click here for the application for St. George's Postbaccalaureate Premedical Program. If you have any questions about the program, please contact SGUEnrolment@sgu.edu.

https://www.sgu.edu/wp-content/uploads/2016/10/news-post-baccalaureate-premedical-program.jpg
167
250
VS
https://www.sgu.edu/wp-content/uploads/2020/02/sgu-logo-grenada.svg
VS
2010-10-18 17:53:52
2017-01-18 01:27:41
St. George's University Announces Post Baccalaureate Premedical Program