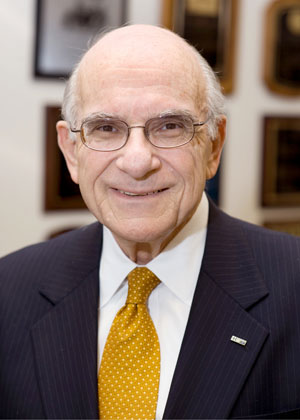 Fred M. Jacobs, MD, JD, has been appointed by St. George's University to the Chair of the Department of Medicine. Having formerly served as a member of the University Board of Trustees and as a Clinical Professor of Medicine at St. George's, Dr. Jacobs returns to St. George's to build on the University's unique clinical training program.
"When you are training students over eight time zones, not just two or three zip codes like many other universities, the evenness at which a program is administered is critical to its success," remarked Dr. Jacobs when asked about his goals in the upcoming year. "Therefore, ensuring St. George's presents a comprehensive medical curriculum at our affiliate sites is instrumental to the continued success of our students." The St. George's University approach to clinical education provides students with the opportunity to learn medicine in some of the best and best-known hospitals in the US, UK, and Canada.
Dr. Stephen Weitzman, Dean of the School of Medicine, looks forward to the experience Dr. Jacobs will bring to his new position. "We welcome Dr. Jacobs back to St. George's University," Dr. Weitzman said. "We're looking forward to drawing upon his expertise and commitment.  I'm confident that his efforts will serve to improve the clinical training program and the already impressive performance of our students."
Although a critical component of measuring program success, Dr. Jacobs is looking not just to student performance markers, but at ways to help clinical faculty more effectively impart their knowledge to medical students. "Licensure represents a public trust – a trust that physicians will maintain all competencies they had when their training was complete," said Dr. Jacobs. "Keeping that public trust by recruiting the best clinical faculty – and helping our best clinicians become more effective teachers – is at the core of what we do at St. George's."
Among Dr. Jacobs many plans for the clinical program includes designating more time for small group discussion. "Medicine moves very fast, and it is no longer enough to just see a lot during a clinical program, cautions Dr. Jacobs. "We need to teach students to think like doctors and give them time to for intellectual growth."
In addition to his role as Chair of the Department of Medicine, Fred M. Jacobs, MD, JD, is University Executive Vice President and has held many faculty positions, including Clinical Professor of Medicine at St. George's University School of Medicine where he also served as a member of the Board of Trustees. In 1990, Dr. Jacobs graduated from Rutgers University School of Law in Newark and is admitted to the Bars of New Jersey and Florida. Prior to returning to St. George's, Dr. Jacobs held the position of Commissioner of the New Jersey Department of Health and Senior Services under Governors Dick Codey and John Corzine and was President of the New Jersey State Board of Medical Examiners from 1993-1995.
Dr. Jacobs earned his three degrees at Colgate University, the University of Miami School of Medicine, and Rutgers University School of Law. He trained in internal medicine at Maimonides Medical Center and Mount Sinai Hospital in New York and completed a pulmonary research fellowship at the University of California, San Francisco Medical Center and a chief residency in pulmonary disease at Kings County Hospital Center in New York. He is board certified in both internal medicine and pulmonary disease. He is a Fellow of the American College of Physicians, the American College of Chest Physicians, and the American College of Legal Medicine.
https://www.sgu.edu/wp-content/uploads/2016/10/news-jacobs-chair-som.jpg
420
300
jrichardsink
https://www.sgu.edu/wp-content/uploads/2020/02/sgu-logo-grenada.svg
jrichardsink
2012-02-27 18:56:34
2017-01-18 01:02:15
St. George's University Appoints Fred M. Jacobs, MD, JD, Chair of the Department of Medicine