Satya and Vijaya Pothamsetti made the trip from Toronto, Canada to attend St. George's University's 12th Beyond Spice Family Weekend for two reasons. The first was that they couldn't wait to attend the School of Medicine's White Coat Ceremony, as the important event marked their eldest daughter's entry into the medical profession. The second and more important reason, plainly, was that they missed her.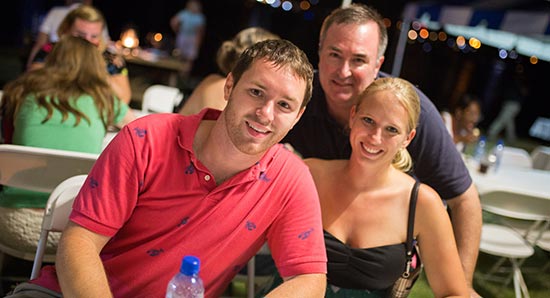 To see Monika, the couple traveled to Grenada with their youngest daughter, Harika, and along with hundreds of families from around the world, converged on SGU's picturesque True Blue campus to experience a taste of culture and hospitality on the Isle of Spice. They visited the Vendor's Village, a display of local art, craft and food with many unique and handcrafted items; attended a sunset barbecue the next day, and even won third place in Discover the Culture in SGU campus scavenger hunt.
"The campus looks like a huge retreat spot; it's really amazing," said Mrs. Pothamsetti. "Any parent that has the opportunity shouldn't miss Family Weekend and a chance to attend the White Coat Ceremony. This is one of the most significant experiences in the life of a medical student."
SGU has proven to be a wonderful home for Monika as she begins her medical studies, just as the family has suspected it would be.
"We are extremely proud of Monika," said Mr. Pothamsetti. "In addition to SGU, she was accepted to three other universities, but we all discussed it as a family and decided that SGU was the perfect fit."
The Pothamsetti family was joined at Family Weekend by Robert and Mary Hidalgo. When their son, Christopher, was accepted to the School of Medicine, they were both excited and cautious, with the campus being more than 2,000 miles from their New York home.
They arrived two weeks in advance of first term, eager to explore their son's new campus and adoptive country. "We took all the tours because we just had to come here and experience the island, the culture, and the people," said Mrs. Hidalgo. "The school itself is phenomenal, and the campus is beautiful. I'm actually a little jealous."
Now making a second trip to Grenada for Family Weekend, the Hidalgos felt confident in their son's decision to attend SGU, after learning about it through his grandfather's doctor, who is also an SGU graduate. "We felt secure and happy leaving him here and absolutely recommend Family Weekend," Mrs. Hidalgo said. "I would advise all parents to come check it out."
Since 2008, SGU has invited family members to come visit the country and campus that their students now call home. The bi-annual family weekend festivities included guided campus tours, which gave participants an intimate glimpse into the University, while the historical sightseeing tour of Fort Frederick, the famous Grand Etang Lake and the 30-foot Annandale Waterfalls provided a glimpse into the natural beauty of Grenada. The weekend also featured the Vendors Village, lunch at Belmont Estate, a fully functional and historic plantation; and a sunset barbecue and sea excursion, among other activities.
The weekend also coincided with the White Coat Ceremonies for Term 1 MD and DVM students, allowing families to take advantage of all that Family Weekend has to offer, as well as the chance to witness their loved one's first steps into the medical or veterinary profession. Students and their families attended a weekend full of activities throughout campus and the island prior to the momentous White Coat Ceremony.
"Every term we happily look forward to opening our doors to host students' families who've traveled from both near and far to experience a weekend of sun, sea and family in the Isle of Spice," said Colin Dowe, Associate Dean of Enrolment Planning. "The sense of pride and accomplishment with which the parents speak of their children not only brings joy to us but serves as a reminder of the great responsibility we have taken on in assisting these students in realizing their dreams."
"Family Weekend is a venture that not only benefits SGU but the Grenadian economy as well, since many family members stay at local hotels, purchase handmade items from local vendors, and dine in local restaurants," added Mr. Dowe. "Our goal is to provide an atmosphere where our visitors can explore all that the University and Grenada have to offer and hopefully become converted into lifelong visitors to our beautiful tri-island state."
Published on 9/23/16
https://www.sgu.edu/wp-content/uploads/2016/09/SGU-Students-celebrates-family-weekend.jpg
298
550
cavensprawl
https://www.sgu.edu/wp-content/uploads/2020/02/sgu-logo-grenada.svg
cavensprawl
2016-09-23 19:12:37
2017-01-17 22:48:18
St. George's University Celebrates 12th Beyond Spice Family Weekend