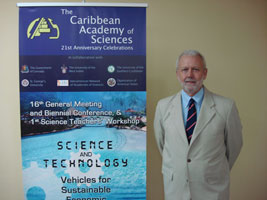 St. George's University co-hosted the 16th Caribbean Academy of Sciences (CAS) Conference from October 11th to October 13th.  The Conference theme, Science and Technology: Vehicles for Sustainable Economic Development in the Caribbean,provided a unique opportunity for the region's academics to discuss and evaluate the function and impact of management practices on long-term community development, both on a local and global scale.
Dr. Wesley D. Balda, Executive Director, Center for International Management Studies at St. George's University, was excited to address an audience of respected scientists, seizing the opportunity to demonstrate the crucial and relevant connection between the role of management and scientific knowledge. He drew upon an extensive career in business management and education, which has proved invaluable throughout the public sector.
Throughout his presentation, titled Minding the Gaps: Organizing Ignorance and Managing Development, Dr. Balda made poignant reference to friend and mentor Peter Drucker, namesake of Claremont University's Management School since 1987.  A prolific writer, Peter Drucker was widely considered the father of "modern management." His writings, which include 39 published books and countless articles, have predicted many of the major socioeconomic developments of the late 20th century.
Drucker defined management as "making knowledge effective."  Dr. Balda expertly used this definition while demonstrating that "community wellness rather than community wealth may be a key gap in managing sustainable development and a specification for future knowledge."  Dr. Balda cited two powerful examples which helped explicate this gap. The first occurred in an exchange between North American business students and a young Brazilian professional during a tour of a poor area outside of São Paulo.  Overwhelmed by a need to help the community, the business students organized a follow-up trip to later build a house.  The Brazilian, explained Balda, kindly responded, "If you build a house, you take jobs away from Brazilians."  This, said Balda, was a pivotal moment for the students as they became mindful of the gap.
A second example both literally and figuratively demonstrated the application of management in long-term community development.  In the case of Chagas disease in Bolivia, a chronic tropical parasitic disease commonly transmitted through insects, the initial and literal approach involved sealing the physical gaps in openings of adobe homes, thereby limiting access of infected insects.  The figurative approach, which Dr. Balda explained encompasses the "one health, one medicine" philosophy practiced by the Windward Islands Research and Education Foundation (WINDREF), illustrates "the capacity of individuals, families and communities working together to transform the conditions that promote, in a sustainable way, their physical emotional, social, economic, environmental and spiritual well being."
Dr. Balda explained that the management techniques used in addressing Chagas emerged quickly as innovation, supply chain-materials required for construction, people-work crews, entrepreneurship, training, long-term employment and ultimately community sustainability.  He is cautious, however, saying that management gaps can be problematic.
Dr. Balda referred to the "Pyramid of Wealth," in which the so-called "top of the pyramid comprises about 100 million people (the wealthiest 2% of the world's population), and the rest includes the other 5.75 billion.  He expressed concern with the theory that wealth can be harvested from the vast, less wealthy majority. Specifically, Dr. Balda raises ethical concerns about "shaping aspirations" and nurturing sustainability of the developing world.  The "bottom of the pyramid" approach misses the gaps when it focuses on community wealth rather than community wellness.  He urged his audience to "consider community wellness as a path to community wealth, rather than the other way around."
Dr. Balda believes that this approach, particularly in a time of global financial uncertainty, will bring us closer to a "place of realized potential," a phrase coined by Max De Pree, former CEO of Herman Miller Company and friend to Peter Drucker.
This was Dr. Balda's first time attending and participating in the CAS.  He believes the Conference provided an interesting place for both St. George's University and the Windward Islands Research and Education Foundation (WINDREF), providing a larger international presence for the University's fledgling area of management and opening opportunities for research grants.  "Business management can be an effective vehicle to connect medical research and medical practice, offering great possibilities for the University's future."
Dr. Balda was pleased by the insightful questions and comments he received from the audience, and made specific mention of a young faculty member from State University of New York (SUNY) who expressed an interest in the global application of a converged management and science philosophy.  This, he believes, is indicative of the additional dimensions of education and research which lay ahead for the University.
Foremost an educator, Dr. Walda is a principal at the Max De Pree Center for Leadership. He was the founding Dean at the George Fox University School of Management, where he developed their executive and professional MBA tracks, and created the first doctorate in management in the Northwest. Prior to joining George Fox University, Wes served as the director and chair of the Executive Management and PhD programs at Claremont Graduate University's Peter F. Drucker Graduate School of Management, where he also taught crisis management and nonprofit leadership.
In addition to leadership positions, Dr. Balda has also taught at Rotterdam School of Management at Erasmus University, the Claremont School of Theology, Azusa Pacific University and Hope International University and served as Director of Student Services at Claremont School of Theology, MBA director and chair of the business program at Hope International University, and Director of Institutional Research at Fuller Theological Seminary.
He co-founded with wife Dr. Janis Balda the Simeon Institute, which led the U.S. State Department's effort to provide crisis management education to officials of the former Soviet Union. Dr. Balda has worked in international efforts, including the 1985 Ethiopia Famine, community development projects in several international urban centers, and created management education programs at Cambridge, Oxford, and in Brazil.
Dr. Balda's professional background also includes work as a senior agency head for the City of Ontario (CA), Ontario Police Department, World Vision U.S., World Vision International, and as a destroyer officer in the U.S. Navy during the Vietnam conflict. He holds a bachelor's degree in urban planning from the University of Washington, a master's from Fuller Theological Seminary, and a doctorate from the University of Cambridge in England.  He has been married to Dr. Janis Balda, an academic and attorney, for 32 years, and they have four children.
The Caribbean Academy of Sciences was inaugurated in Trinidad in May 1988. It has five divisions covering the natural, agricultural, medical, engineering and social sciences. It is an independent, non-governmental body aiming to: provide a forum for interchange among scientists on important issues related to the application of science and technology to development; serve as a source of advice to regional, governmental and non-governmental organizations in scientific and technology matters; facilitate cooperation among scientists and promote the coordination and execution of scientific research in all its aspects; liaise with relevant research organizations and assist in facilitating their mutual interaction; recognize and reward outstanding performance and achievement within the region in the fields of science and technology; raise the level of scientific consciousness in the region and increase the public understanding and appreciation of the importance and potential of science and technology in human progress; establish and maintain high standards and ethics in all scientific endeavor. Source: interacademies.net
https://www.sgu.edu/wp-content/uploads/2020/02/sgu-logo-grenada.svg
0
0
Erin Shaw
https://www.sgu.edu/wp-content/uploads/2020/02/sgu-logo-grenada.svg
Erin Shaw
2008-10-20 03:30:54
2017-01-18 02:17:21
St. George's University Co-hosts 16th Caribbean Academy of Sciences Conference