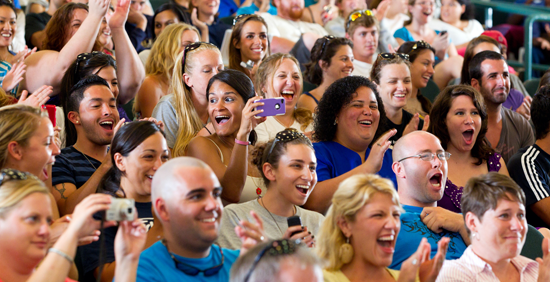 The American Veterinary Medical Association Council on Education (AVMA COE) announced its full accreditation of the St. George's University Doctor of Veterinary Medicine program for seven years. This accreditation follows a self study by the School of Veterinary Medicine, and a site visit by a team of AVMA appointed reviewers in April of 2011.
According to the AVMA website, "accreditation by the AVMA COE represents the highest standard of achievement for veterinary medical education in the United States. Institutions that earn accreditation confirm their commitment to quality and continuous improvement through a rigorous and comprehensive peer review." Furthermore, students graduating from an AVMA COE-accredited institution can be assured the education they receive meets a "competency threshold for entry into practice, including eligibility for professional licensure".
Dr. Raymond F. Sis, Dean of the School of Veterinary Medicine, led the accreditation efforts. Having joined St. George's University in 2001 as a professor of Anatomy, and then being appointed Dean of the SVM in 2003, he has brought his knowledge and passion for veterinary medical education to his current role.
"Accreditation of the Veterinary Medicine program is a direct result of the hard work undertaken by our very dedicated faculty, administration, and staff members, "said Dr. Sis. "The AVMA site visit in April was the culmination of more than 10 years of dedicated veterinary education by faculty, administration, and staff that are second to none."
The AVMA COE site visit team traveled to the St. George's campus in April for a comprehensive review of the DVM program curriculum, physical facilities, equipment, clinical resources, and library and information resources as part of its assessment of the program's readiness for accreditation. Admissions policies, faculty qualifications, and the number and quality of professional degree students in the DVM program were also assessed.
Citing the quality of St. George's DVM program, Dr. Sis provided further comment on the accreditation process, saying, "Completion of our comprehensive self-study and the continuous improvements in curriculum, faculty and facilities helped our accreditation team effectively showcase our academic program to the site visit team. I am thrilled to have been a part of this rigorous process and happy to have our hard work validated through this accreditation."
Graduates of SGU's DVM program wishing to practice in North America will no longer be required to sit the examination given by the Educational Commission for Foreign Veterinary Graduates or the PAVE examination, and will now be required to take only the North American Veterinary Licensing Examination (NAVLE) for licensing, as they have graduated from an AVMA accredited program in veterinary medicine. The accreditation decision is retroactive to the date of the council's site visit on April 21, so all students graduating after this date are considered graduates of an AVMA COE-accredited institution.
The 2010-2011 pass rate for students of our school on the North American Veterinary Licensing Examination (NAVLE) was 96% (85/82) as compared to an 80% pass rate required by the AVMA Council on Education's Outcomes Assessment standard.
Dr. Charles Modica, St. George's University Chancellor, in conjunction with Dr. Sis and members of the SVM administration and faculty, announced news of the accreditation to current students at a jubilant SVM town hall meeting on campus. "Students who join our veterinary program with its international educational experiences will now benefit from belonging to an AVMA-accredited institution. We are proud of Dr. Sis and his faculty and staff."
The date of the next site visit is 2018.
https://www.sgu.edu/wp-content/uploads/2016/10/news-sgu-earns-accreditation-doc-svm.jpg.png
282
550
VS
https://www.sgu.edu/wp-content/uploads/2020/02/sgu-logo-grenada.svg
VS
2011-09-21 17:46:01
2017-01-18 01:09:10
St. George's University Earns US Accreditation for Doctor of Veterinary Medicine Program