An important symbol of a student's induction into the medical profession, this year's class of newly enrolled medical students donned their white coats and took the oath of Professional Commitment on the True Blue Campus in Grenada. They joined their fellow students from the Keith B. Taylor Global Scholars Program, who also began this noble journey in Northumbria, UK last month.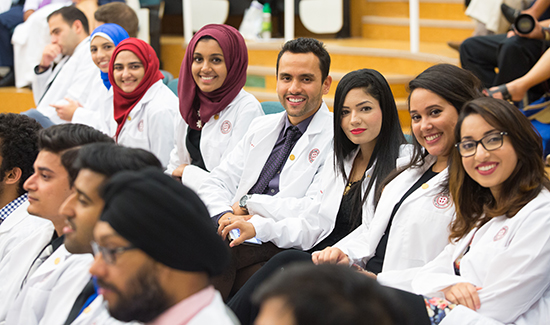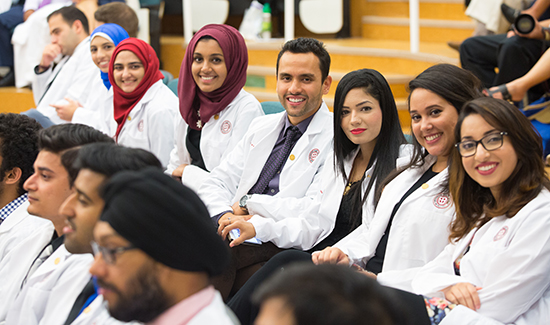 The Master of Ceremonies for the evening was SGU's own Dr. Hanson Cummings, MD SGU '04, who a decade later has gone on to serve as a registrar in internal medicine at the General Hospital, Grenada. Dr. Cummings credited hard work, sacrifice, and the love of a supportive family as the means of realizing his dream of becoming a physician. Born and raised in Grenada, he returned to his native land after completing his postgraduate training in internal medicine in Barbados, where he also attended a Pan American Health Organization (PAHO)/World Health Organization (WHO) conference in 2012 and was the representative clinician delivering numerous lectures on both chikungunya and dengue.
Having been in their shoes not too long ago, Dr. Cummings advised the matriculating class to "hit the floor running and not let work accumulate; to challenge themselves to be better by always pursuing knowledge as medicine is a dynamic field where things are constantly changing; and lastly with perseverance and hard work they will accomplish their goal of joining the medical fraternity."
The students were also welcomed and congratulated by the Chancellor of St. George's University, Dr. Charles R. Modica, and the Prime Minister of Grenada, the Right Honorable Keith C. Mitchell. The Chancellor also introduced the newly appointed and first-ever President and Chief Executive Officer of SGU, Dr. Richard Olds. The founding Dean of University of California Riverside Medical School, Dr. Olds remarked on how wonderful it was to be joining a university that's already doing great things. "Tonight is your night and I'm excited for all of you on taking the very first step in your professional career as physicians," said Dr. Olds.
Delivering this year's keynote address was Dr. Hugh Montgomery, a Professor of Intensive Care Medicine at University College London, and Director of the Institute for Human Health and Performance. Centering his address on the importance of humanity, knowledge, and skepticism to the practice of medicine, Dr. Montgomery counseled students to do all the little things because you never know if they will make the difference between life and death.
"There's nothing too small for a truly big man," said Dr. Montgomery, recalling the advice he received from his father many years ago. He also spoke of gaining knowledge as a way of showing compassion, saying that "Knowing more than anyone else and studying hard so you can make a faster diagnosis is a great way to show you care." He cautioned the students, however, to remember that no one knows everything and advised them to challenge everything and to always seek a second opinion. "Work hard, work with positive people, question everything, act with kindness and compassion, and treat each patient like family."
For Genevieve Jankowski, who just celebrated her 102nd birthday, the thrill of witnessing her granddaughter Paige Dubin's entry into the medical profession was one momentous occasion she just couldn't miss. Ms. Jankowski trekked more than 3,000 miles from California to Grenada to be with her granddaughter. After the ceremony and her brief visit of the campus, the spirited centenarian asked "so where do I get an application?"
The School of Medicine White Coat Ceremony has coincided for the fourth straight term with Beyond Spice Family Weekend at SGU. Students' family members enjoy a fun-filled weekend of activities, exploring Grenada's rich cultural heritage and getting a taste of life at SGU before attending the special ceremony, which serves as an affirmation of commitment to their studies and marks the very beginning of their medical career.
https://www.sgu.edu/wp-content/uploads/2016/10/som-wcc-fall-2015.jpg
325
550
VS
https://www.sgu.edu/wp-content/uploads/2020/02/sgu-logo-grenada.svg
VS
2015-09-07 18:02:28
2017-01-17 23:19:19
St. George's University Fall 2015 Class Presented with White Coats as First Step into the School of Medicine