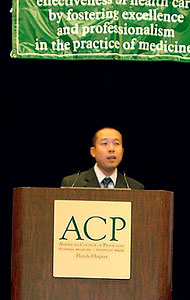 On Thursday, April 23, 2009, St. George's University School of Medicine (SGUSOM) graduate Dr. James Nguyen captured the title of National American College of Physicians (ACP) champion at the Pennsylvania Conference Center in Philadelphia.  The Internal Medicine 2009 Conference is an elite competition which challenges physicians throughout the country to present abstracts in the areas of Clinical Vignette, Basic Research, Clinical Research, and Quality Improvement-Patient Safety.
Dr. James Nguyen, Class of 2006, presented on Multi-Slice Computed Tomography versus Stress Test on Low Risk Chest Pain Patients. Representing Orlando Regional Healthcare System, in Orlando, FL, Dr. Nguyen came to the national competition on the heels of winning the regional American College of Physician Florida Chapter competition. The top three presenters were selected to progress to the national event. Dr. Nguyen competed and won against 420 resident presenters from top-tier health care institutions nationwide, including Mayo Clinic, University of Pennsylvania,  Walter Reed Army Medical Center, and Montefiore Medical Center.
As first author, Dr. Nguyen spent one year researching and evaluating the use of the 64-slice Multidetector Computed Tomograph Angiography (MDCT) in patients who present in the emergency departments (ED) with acute chest pain.   This MDCT is a high-tech imaging technique which uses 64 detectors to take and combine multiple x-ray pictures without requiring catheter insertion used with conventional coronary angiography.
Dr. Nguyen's study concluded the multi-slice MDCT is a valuable tool to evaluate low risk patients with atypical chest pain in the ED, resulting in both a safe discharge and a significant reduction in both length of stay and accumulated charges.
This MDCT study, which Dr. Nguyen presented to the American Heart Association in 2007, has enormous application potential, as each year approximately 700,000 Americans will display new symptoms of acute coronary syndrome, while nearly 500,000 patients will suffer from recurrent attacks. Many of these patients will surface at emergency departments, which will result in excessive and expensive use of health care systems.
After completing his residency at Orlando Regional Medical Center, Dr. Nguyen will embark on the next chapter of his career, serving as Chief Resident at University of Arizona, Department of Internal Medicine.
Dr. Nguyen came to St. George's University at the age of 19, having began in his undergraduate education at the tender age of 12.  He has high praises for the faculty and staff at St. George's University, as they provided the "foundation and fundamentals" which have proved so critical throughout his career.
https://www.sgu.edu/wp-content/uploads/2016/10/news-acp09.jpg
300
190
jrichardsink
https://www.sgu.edu/wp-content/uploads/2020/02/sgu-logo-grenada.svg
jrichardsink
2009-05-13 19:57:29
2017-01-18 01:53:47
St. George's University Grad Wins National American College of Physicians Competition