Off-Duty Emergency Physician Saves Man's Life at Little League Event in New York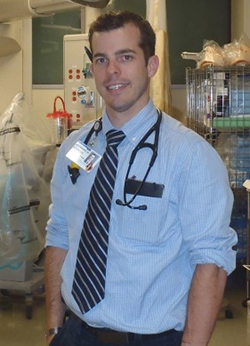 Paul Barbara, MD SGU '04, was standing at second base as a coach at his 4-year-old son's Little League Opening Day ceremonies when it happened. A league official had collapsed in the nearby dugout during the invocation, prompting Dr. Barbara to do what he does every day as Assistant Director of Emergency Medical Services at Staten Island University Hospital (SIUH): to take action in a chaotic scene.
Rushing to the Claudio Buono's side, Dr. Barbara assessed the patient and began administering CPR. As more providers came to the scene, he began directing off-duty responders from the FDNY and NYPD, as well as several bystanders. After Mr. Buono's heartbeat returned, Dr. Barbara choreographed his transport to SIUH Ocean Breeze, where he received state-of-the-art interventional cardiac care. With quick and decisive action, Mr. Buono's life was saved.
The collective efforts received praise league officials and from Mr. Buono's family. In a follow-up story in the Staten Island Advance, his daughter, Kelly, stated, "I cannot describe how grateful I am that they were there to save my father's life. Thank God they were there – it's a miracle."
"I never saw a man work so fast and work so hard to save this guy's life," South Shore Little League president Paul Iorio said of Dr. Barbara. "It was unbelievable. Without that guy in the dugout, that doctor, he had no chance. He had no chance."
In addition to his EM duties, Dr. Barbara has volunteered as a medical stand-by at out-of-hospital events for years, including the New York City Marathon and area concerts. These types of event management, in addition to his roles as an attending physician in a busy emergency department, afforded him the experience to handle what could have quickly become a tragedy. The impromptu team of responders at the Little League complex that afternoon were seamlessly integrated because of their common goal.
"We had a cohesive team of people who had never seen each other before, working together for the greater good," Dr. Barbara said. "That's very gratifying. It shows what laypeople can accomplish with teamwork and good protocols."
Dr. Barbara called the chronology of events "serendipitous." As the eventual 911 call prompted EMS system activation, a police officer whose vehicle contained an automated external defibrillator (AED) provided the device to the responders. The quick presence of the AED allowed off-duty FDNY members to employ it, and fortunately the patient had a rhythm that could be shocked. Additional ambulances arrived to continue care and management. The most critical choice that Dr. Barbara made was to propose transporting Mr. Buono transport to a facility that provides post-resuscitative interventional cardiac care. After receiving approval from an off-site FDNY physician, the paramedic crew had one goal: get him to the hospital for post-resuscitative care.
"We had to think outside the box," Dr. Barbara said. "If we got him to the closest hospital, he would have gotten someone like me – an ED physician. He didn't need someone like me anymore. He needed interventional cardiac care. That we were able to direct him to a hospital where he could treated by an interventional cardiologist, to me, is what saved his life. He has a normal life today because of the care he received in the hospital."
Among those caring for Mr. Buono at SIUH was another SGU graduate, Thomas Vazzana, MD SGU '86, his cardiologist. In addition, although those assisting Dr. Barbara that day were mostly strangers, one was not.
"As it's happening, a guy comes up next to me, and it's one of the nurses from the hospital who I work with two or three times a week. We play softball together," Dr. Barbara said. "His presence allowed me to reorganize my mind, and so I was able to go into 'command mode,' calling out orders as if I was running the arrest in the hospital. Since it was me in crunch time, it was great to have a familiar face to help me coordinate the scene."
His heroics gained local and national media attention, including appearances with Mr. Buono on the nationally syndicated Boomer and Carton radio show on CBS Sports Network as well as WFAN-AM 660 and WFAN-FM 98.7 in New York City. More than anything else, Dr. Barbara hopes that such an event encourages more organizations to have an AED on site at athletic events, and imagines that the life-saving moment may have a lasting impression on the young athletes who were on hand.
"This was Opening Day. There might have been 30 teams and about 750 people there," Dr. Barbara said. "I think about how many boys or girls read or watched what happened and say 'I want to be a doctor. I want to be a nurse. I want to be a cop or a fireman or a physician assistant.' I think something like this is a seminal event in a young person's career. Maybe they watch something that's absolutely miraculous and they see that it's a really good thing that these people do. That's what's the most rewarding part of this whole event."
https://www.sgu.edu/wp-content/uploads/2016/10/paul-barbara.jpg
346
250
VS
https://www.sgu.edu/wp-content/uploads/2020/02/sgu-logo-grenada.svg
VS
2015-04-23 18:21:45
2017-01-17 23:30:37
St. George's University Grad's Emergency Efforts Gain National Media Attention