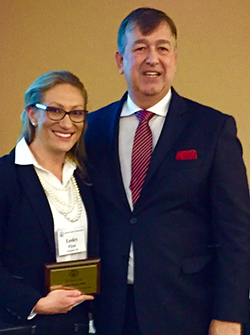 As a nuclear physician, Lesley Flynt, MD SGU '11, examines the very fibers of the human body, down to cells, their nuclei and their elements. Her most recent research earned her one of the most prestigious awards in the neuroimaging realm.
At the American Society of Neuroimaging's 38th Annual Meeting in Phoenix this January, the 2011 SGU graduate was honored with the 2015 Oldendorf Award, given each year for the best abstract from research in brain mapping. The award is named for medical pioneer and ASN founding member William Oldendorf, the renowned neurologist whose accomplishments included originating the technique of X-ray computed tomography.
"At first I assumed it was a mistake, but later when I realized it was really happening, I just felt so grateful that someone was paying attention to my work," she said. "Winning the award has just made me want to work even harder."
The ASN acknowledged Dr. Flynt's retrospective study on approximately 100 patients with history of tremor, referred for brain imaging to differentiate between Essential Tremor and tremor due to a Parkinsonian Syndrome. The imaging agent DaTscan was used to visualize the integrity of the striatal dopaminergic neurons in their brains. Because those afflicted with Parkinson's do not produce as much dopamine as those who do not have the disease, Dr. Flynt could examine the patients' images and distinguish between Parkinson's and another movement disorder, essential tremor (ET). By performing the study, she discovered that DaTscan would have changed the diagnosis for about three-quarters of the suspected Parkinsonism patients.
"It's really a unique thing to be able to see physiologically what's going on inside a person's head," Dr. Flynt said. "You can see what's going on inside the cells, inside the nucleus."
Dr. Flynt wasn't born into the medical profession; her mother is a florist and her father an entrepreneur. Her interest in medicine really took off at California State University at Sacramento, from which she earned her Bachelor of Science in molecular biology in 2002.
"During college, I really got in to molecular biology, and it was just an avalanche from there," she said. On her decision to go to medical school, she said, "I think being a doctor is the best thing a person can do with his or her life, and I wanted to do something meaningful with mine."
Dr. Flynt went on to research molecular genetics at Harvard University for four years before enrolling in SGU's January 2007 class. "I had seen the photos on the website, but when I got to Grenada, it was even more beautiful than I ever could have imagined," she said. "To top it all off, the level of education that you receive is quite impressive."
That education took place beyond the island's boundaries. Dr. Flynt took part in the highly sought-after Prague and Thailand selectives, expanding her perspective and knowledge base in patient care. She went on to complete her clinical rotations at Long Island College Hospital in Brooklyn Heights, New York. Upon graduating, she did one year of a surgical residency at Hahnemann University Hospital in Philadelphia before beginning her stint at Beaumont.
In younger SGU residents with whom Dr. Flynt crosses paths, she sees personality traits similar to her own, the very traits she hopes to carry with her throughout her career.
"Whenever I work with residents from other schools, I don't know what to expect. With an SGU graduate, I know the personality type that goes with that person," she said. "I know they're going to be hard-working, personable, and adventurous. They're going to be up for something new and ready for a challenge."
https://www.sgu.edu/wp-content/uploads/2016/10/Lesley-Flynt.jpg
335
250
VS
https://www.sgu.edu/wp-content/uploads/2020/02/sgu-logo-grenada.svg
VS
2015-04-13 19:22:46
2017-01-17 23:31:14
St. George's University Graduate Earns American Society of Neuroimaging Award for Research in Brain Mapping