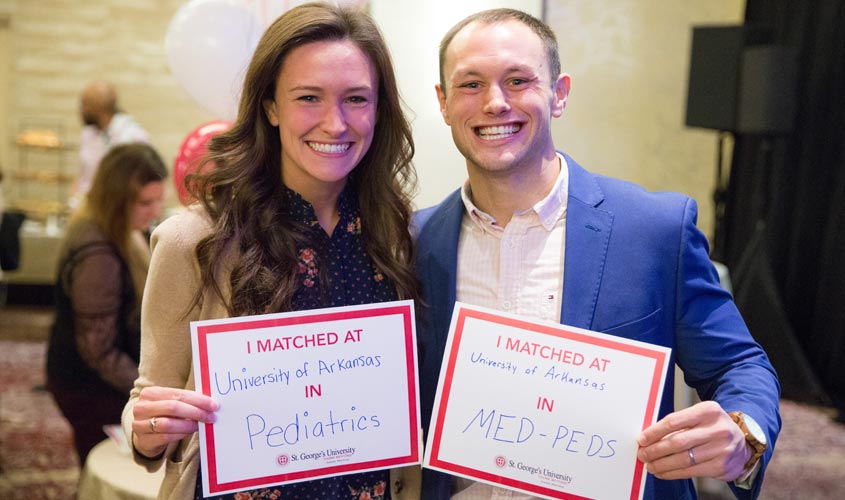 901 students and graduates from St. George's University School of Medicine matched with residency programs across the United States. This number is likely to go up in the next few weeks as SGU grads get residencies post-Match and outside of the Match.
86% of eligible SGU graduates obtained a PGY1 residency position, compared to 84% at this time last year. By the summer of 2017, 93% of SGU's eligible US 2017 graduates had obtained a PGY1 position.
The available residency positions are increasing in the US. The 2018 National Resident Matching Program (NRMP) saw a 4.8% increase over 2017 with 1,383 more PGY1 positions—quelling fears that residencies are becoming unavailable. The available residencies have been growing for 16 consecutive years; more than 9,500 have been added since 2002.
The Match rates of international medical graduates (IMGs) going through the NRMP's Match were the highest in 25 years—56.5% matched, up from 53.4% last year. For US citizen IMGs, the rate was 57.1%. This percentage has risen 13 of the last 15 years. It should be noted that SGU's US 2018 current residency obtainment rate for eligible current-year graduates for PGY1 positions—in and out of the Match—is 87%.
St. George's University students obtained residencies in programs across 46 US states and the District of Columbia will be entering 16 different medical specialties. The most popular specialties among SGU's newly minted residents were internal medicine and family medicine, two primary care fields sorely needing reinforcements. The United States will face a shortage of up to 31,000 primary care physicians by 2025. In addition, grads matched into such specialties as anesthesiology, emergency medicine, neurology, obstetrics and gynecology, pathology, physical medicine and rehabilitation, surgery, and urology.
The latest group of St. George's-trained residents joins a cohort of over 15,000 alumni who have gone on to practice in all 50 states. SGU is the number one provider of doctors in first-year residencies on the United States, and in 2016, St. George's University ranked as the fourth largest source of doctors for the entire US workforce.
https://www.sgu.edu/wp-content/uploads/2018/03/match-day-2018-couples.jpg
500
845
dbriggs
https://www.sgu.edu/wp-content/uploads/2020/02/sgu-logo-grenada.svg
dbriggs
2018-03-23 21:30:24
2018-04-17 15:18:17
St. George's University Graduates Obtain More than 900 First Year Residency Positions