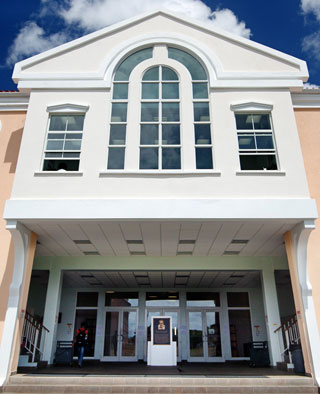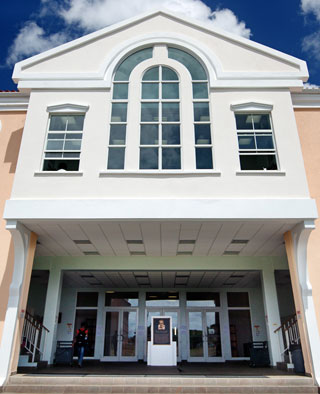 Appointed the Vice Chancellor at St. George's University in 1989, Keith B. Taylor, DM, FRCP, had a vision of St. George's University becoming one of the world's most renowned centers of international medical education and research. During his nine years at the University, he turned that vision to a reality, forever changing the University's path and opening its students' eyes to a world without boundaries.
Forever a part of its fabric, the University commemorated Dr. Taylor's role in its growth and success by unveiling a bronze plaque highlighting his accomplishments at a dedication ceremony on October 25 on the True Blue campus. Held outside Keith B. Taylor Hall, named for him in 2007, the ceremony was attended by family and friends of the late Dr. Taylor, as well as University administrators, faculty, and students.
"We at St. George's are ever grateful to Keith for the limitless future he has given us," said Margaret Lambert, Dean of Enrollment Planning, during her speech leading up to the dedication. "We are now full of 'hopes that as yet have no name.' We are moving forward with many of his visionary ideas. He changed the University and its critical band of people irrevocably so that we could continue to grow – as teachers, as educators, and as a international University. We are glad that this bronze plaque is here, so that future students, faculty, staff and visitors may know, briefly, of this man that profoundly changed our University."
Dr. Taylor's vision of a shrinking world, of medical education with a public health framework, led to the creation of the Windward Island Research and Education Foundation (WINDREF) in 1994, which in turn brought the St. George's University name out into the world of scientists and researchers. Dr. Taylor, who came to SGU from Stanford University where he had served in academic medicine for 30 years, guided the University into a graduate program and was instrumental in instituting the School of Arts and Sciences in 1996, which broadened the academic opportunities for students in Grenada and the region.
"Dr. Taylor prevailed upon us to continue excelling as a medical school and was instrumental in establishing the School of Arts and Sciences which has since provided the opportunity for hundreds of Grenadians to have access to quality tertiary education," Chancellor Charles R. Modica said. "He had a profound impact on St. George's University and on the nation of Grenada."
The bronze plaque is only the most recent way in which St. George's University has saluted Dr. Taylor's impact on its development. In recognition of his vision and dedication to the international growth of St. George's University, it honored his memory with the establishment of the Keith B. Taylor Global Scholars Program, which allows students to widen their breadth of studies by spending their first year of medical school at Northumbria University in Newcastle, England. In addition, the prestigious WINDREF Lecture, which has brought some of the world's most renowned researchers to speak at SGU, was renamed the Keith B. Taylor Memorial Lecture beginning in 2008.
https://www.sgu.edu/wp-content/uploads/2016/10/news-kb-taylor-bronze.jpg
394
320
jrichardsink
https://www.sgu.edu/wp-content/uploads/2020/02/sgu-logo-grenada.svg
jrichardsink
2012-11-09 19:31:24
2017-01-18 00:42:41
St. George's University Honors Dr. Keith B. Taylor with Bronze Plaque Dedication Ceremony