The International Society of Cardiovascular Disease Epidemiology and Prevention (ISCEP) partnered with St. George's University for the second time in five years to host the 48th Ten-Day International Teaching Seminar on Cardiovascular Disease Epidemiology and Prevention in Grenada.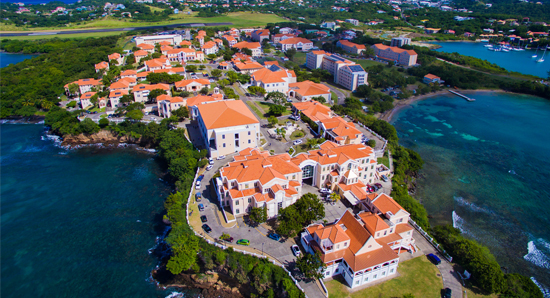 Thirty-six fellows from 26 countries participated in the International Teaching Seminar geared at providing formal training in this area for interested and qualified health professionals, through a program described as "specialty bridging" between epidemiology and cardiology.
Professor Neil Poulter, Chair of Preventive Cardiovascular Medicine at Imperial College, London, UK, and a Board of Trustees Member of WINDREF, co-directed the Teaching Seminar. Dr. Poulter has been involved with the ISCEP for almost 30 years; he participated as a fellow himself in 1980 and later started teaching at the Seminar in 1986.
"It is a very prestigious course to get involved with," said Professor Poulter. "There's a huge need and a fantastic opportunity that St. George's University has given us to come back here for a second time. Grenada is a marvelous place to be; it's a fabulous environment and relatively central for this region. We are extremely grateful to SGU for this superb opportunity."
With the awareness of cardiovascular disease (CVD) as a global health problem growing, Drs. Ancel Keys and Jeremiah Stamler of the International Society of Cardiology (ISC) spearheaded the first ISCEP edition, in Makarska, Yugoslavia, in 1968. The ISC recognized a serious practical limitation of its field, namely a lack of trained and experienced scientists and practitioners to address the worldwide need for effective work in epidemiology and prevention of CVD.
Almost 50 years later, the Seminars have since trained nearly 2,000 health professionals from 100 countries, in all continents except Antarctica, with last year's Seminar being held in Denaru, Nadi, Fiji. The success of the International Seminars has stimulated national and regional Seminars, in countries such as Japan, Mexico, and Spain, where Alumni Fellows have set up local seminars to be taught in their native languages, thus further disseminating the training and education to conduct research and practice in this field.
Over the years, the International Seminars have equipped some of the world's most prominent leaders in preventive cardiology, many of whom have either taken the Seminar, taught it, or are still teaching it. Today, these fellows are responsible for not only many of the landmark research studies into prevention but also in terms of policy and prevention in governments worldwide. Distinguished alumni include ministers of health from Pakistan and most recently from India, Dr. K. Srinath Reddy, Past President of the World Heart Federation.
According to Dr. Kay-Tee Khaw, Professor of Clinical Gerontology at the University of Cambridge, UK, and Seminar coordinator for the ISCEP, Grenada and other countries in the Caribbean are observing a great rise in diabetes, obesity, and cases of high blood pressure. "Our aim is to both raise awareness of the issue and also increase capacity in terms of people who are able to address this issue," explained Dr. Khaw.
"Having been to Grenada five years ago, several past fellows have been instrumental in developing many of the surveillance studies on risk factors and improving health policy in the region," added Dr. Khaw. "Grenada has many positive examples of control of risk factors and has many advantages in being able to be a model for how we can improve prevention of CVD in both the region and the rest of the developing world. We are very grateful to Dr. Calum Macpherson, Vice Provost of the International Program Development at SGU, for graciously hosting the Seminar here."
The International Seminars remain an essential training resource for cardiovascular epidemiology and prevention and a model for complementary programs needed to meet the growing demands for skilled health professionals in this field throughout the world. The Ten-Day International Teaching Seminars on Cardiovascular Epidemiology and Prevention offer a well-tested and very successful model for introducing young specialists in cardiology and related disciplines to epidemiology and biostatistics as applied in research and practice in the prevention of CVD.
https://www.sgu.edu/wp-content/uploads/2016/07/campus-aerial.jpg
298
550
dbriggs
https://www.sgu.edu/wp-content/uploads/2020/02/sgu-logo-grenada.svg
dbriggs
2016-07-18 17:13:48
2017-01-17 22:54:14
St. George's University Hosts 48th Ten-Day International Teaching Seminar on Cardiovascular Disease