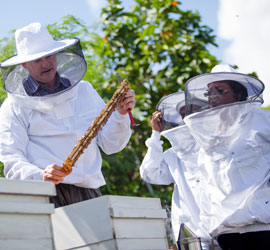 This January, Grenada was abuzz with beekeepers from around the region who attended the first Caribbean Bee College (CBC). Seasoned apiculturists as well as amateurs and hobbyists enjoyed a stimulating three-day program that included lectures, hands-on sessions, and tours of local apiaries.
The event was held at St. George's University, home of the East Caribbean Bee Research and Extension Center (ECBREC). Patterned after the bee college at University of Florida, the CBC's aim was sharing research, information, and tools to improve the sustainability of beekeeping in the region.
"This exercise is very important for raising the profile of our beekeepers," said Dr. Valma Jessamy, president of the Grenada Association of Beekeepers. "Most of them are not big university grads with high-level training. They are artists and they know the skill of beekeeping by instinct. The CBC will help to bring some of the science to their art."
Dr. Jessamy was pleased with the first CBC and sees many ways in which it can benefit beekeeping in Grenada, which has about 50 beekeepers who produce around 3,000 gallons of honey per year. Honeybees account for one-third of the world's food, and their products serve many purposes, including healing wounds.
"Beekeeping and its products have so many varied applications that our medical, our veterinary, and our public health departments will all like to play a role in this bee college," said Dr. Calum MacPherson, director of research at St. George's University.
In his remarks at the opening ceremony of the CBC, Aaron Francois, permanent secretary in the Ministry of Agriculture, expressed his vision of seeing the CBC expand, diversify, and globalize the beekeeping industry in Grenada, stating that "The Ministry of Agriculture regards the apiculture industry as one of the subsectors holding the greatest potential for transforming the agro-business sector."
The CBC was a collaborative effort by ECBREC, the Honey Bee Research and Extension Lab (HBREL) at University of Florida (UF), the Association of Caribbean Beekeepers' Organizations (ACBO) and the Grenada Association of Beekeepers (GAB).
https://www.sgu.edu/wp-content/uploads/2016/10/news-caribbean-bee-college.jpg
250
270
VS
https://www.sgu.edu/wp-content/uploads/2020/02/sgu-logo-grenada.svg
VS
2013-04-23 13:21:24
2017-01-18 00:28:11
St. George's University Hosts First Caribbean Bee College