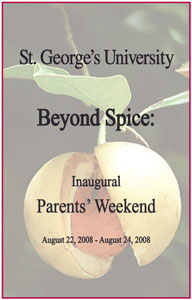 In an effort to address the needs of SGU's increasingly diverse student body (this year's incoming School of Medicine class alone originated from a record 29 countries) and their often anxious families, SGU faculty and staff initiated the Beyond Spice : Inaugural Parents' Weekend.The purpose of Beyond Spice was twofold: designed to further enhance the students' initial experience at the True Blue campus and solidify a comfort level for their families.
From Friday, August 22nd to Sunday, August 24th, 155 family members of incoming classes in the Schools of Medicine, Veterinary Medicine and Arts and Sciences participated in a weekend of informative and culturally entertaining events.  For two days, families, friends and loved ones of the students were welcomed by SGU with tours of the campus and its beautiful surroundings, presentations by both faculty and students including question and answer sessions, a lunch barbecue on Black Sand Beach and a late afternoon boat cruise.
According to Mr. Colin Dowe, the event moderator and Assistant Dean of Enrolment Planning for Admission, "Separation anxiety is more on the part of the parents than on the students."  With that in mind, a series of presentations appropriately titled "Caring from Near and Afar" were delivered at the University's Bourne Lecture Hall by several departments including Housing, Department of Educational Services, Student Government Association (SGA) and Counseling.  Each session afforded families the opportunity to share their lingering concerns, make comments and recommendations and ask questions. In a Parents Q and A Session, Chancellor Charles R. Modica and other members of the administration fielded questions about the various political issues in medical and veterinary education, and discussed the future growth of the University.  Many parents asked well-prepared questions.
A presentation by the Student Government Association (SGA) President, Jesse Livingston, served to alleviate concerns of those parents who expressed that many of the students are still very young, and for some this is their first time away from home.  Jesse assured the parents that students fully adjust within the first semester on campus, and that many departments within SGU are on-hand in various capacities to assist in their transition.
Department of Educational Services Director Andre Havenga discussed the variety of programs, courses and workshops which provide academic support services to the student body.  With humor and sincerity, he expressed reassurance to parents saying, "Your children are resilient and smart and will get through this much better than you."
SGU was pleased with the positive feedback received from many participants from the weekend of events.  One parent described her experience in Grenada as thrilling, "This is a fantastic place, and I have nothing but pleasant sentiment and positive vibes. "
The weekend's success was not just a tribute to St. George's University but to Grenada and its people as well.  On Saturday afternoon, after attending the Inaugural Nursing Program Commencement on campus, Grenada's new Prime Minister, the Hon. Tillman Thomas, came unexpectedly upon five tour buses filled with excited SGU families setting off on an island excursion.  His face showed deep appreciation at Grenada's opportunity to welcome and share the Island with the University's extended family.
The Beyond Spice Parents' Weekend demonstrates the University's commitment to the students, their families and generations to come.  We hope to learn from our inaugural event and make this weekend even more rewarding in terms to come.
https://www.sgu.edu/wp-content/uploads/2020/02/sgu-logo-grenada.svg
0
0
Erin Shaw
https://www.sgu.edu/wp-content/uploads/2020/02/sgu-logo-grenada.svg
Erin Shaw
2008-08-28 03:55:39
2017-01-18 02:22:57
St. George's University Inaugural Parents Weekend