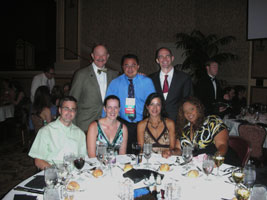 At the 24th Annual American Association of Clinical Anatomists (AACA) in Las Vegas, NV from June 17-June 20, 2007, SGU's Department of Anatomical Sciences proved that strength in numbers has its exceptions.  While SGU sent 22 honor students from the Students Clinical Research Society (SCRS) to last year's conference, this year's smaller demonstrated enormous professionalism, knowledge and dedication.
Dr. Marios Loukas, Associate Professor of Anatomical Sciences and Dr. Robert Jordan, Professor and Department Chair of Anatomical Sciences, were joined by two PhD students, Cara Fisher and Candice Myers, one SGUSOM student, Christopher Kinsella and the Research Fellow from Turkey, Dr. Nihal Apaydin.  With the vast majority of SCRS students back in Grenada taking exams, this unified group of six represented their team honorably and successfully.
SCRS is a student driven organization established by Dr. Loukas which promotes communication and instills team work values critically beneficial to students involved in meaningful anatomical research.  Currently, SCRS students have co-authored 30 papers published in peer reviewed journals and 22 abstracts presented as oral or poster presentation in congresses.
Christopher Kinsela and Dr. Loukas presented a paper entitled "Anatomical research, a teaching method in career guidance."  This was an educational study which demonstrates the intrinsic value of research for a student's overall academic success.  The study found a direct correlation with student GPA's and their participation in research.  Students involved in research had a higher GPA at the end of their Basic Sciences when compared with an identical group of GPA's of non-research students.
Dr. Loukas, a longtime attendee to AACA meetings, said "….our example of blending quality teaching and research experience has been widely accepted as an ideal model for anatomy education. More and more US schools are following our example (SCRS model) regarding anatomy education. The Department of Anatomy at AlbertEinsteinCollege of Medicine has initiated a similar program. Their students are in direct communication with our SGU SCRS students in order to get all necessary details to set up their program." Dr. Loukas and his team look forward to the presentation being published.

Published 7/30/2007
https://www.sgu.edu/wp-content/uploads/2016/10/Table-Photo-from-24th-Annual-AACA.jpg
200
267
smashm3233
https://www.sgu.edu/wp-content/uploads/2020/02/sgu-logo-grenada.svg
smashm3233
2007-07-30 19:36:14
2017-01-18 02:48:40
St. George's University Makes an Impact at Annual American Association of Clinical Anatomists (AACA) Meeting