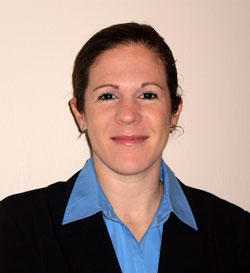 There were times that Therese Jeter had hopped a train with no particular destination in mind. She'd run away from home at age 15, living off the street and without boundaries for a while.
Even while exploring the world, Jeter never lost her desire to gain an education. Now a third-termer at St. George's University School of Medicine, "Tee," as she is nicknamed, has quite a clear path in mind, and she believes she has found the right institution to take her there.
"I can't imagine going to med school in any other place," Jeter said. "This is the perfect setup for me. I love the material so much that all I want is more time, just so I can learn it better and learn more. When you work 15-17 hours a day at your job, it really helps to love your job. My job is studying and I love it. It reassures me that I'm in the right place."
Jeter came to SGU in January 2012 from the University of Central Florida (UCF), from which she earned a Bachelor of Science in molecular biology and microbiology, graduating magna cum laude. However, the aspiring doctor has come a long way since leaving her family's Connecticut home.
"I don't even know why I wanted to leave home so badly," she said. "I think I was just in search of something different, some kind of freedom."
It began a four-year stretch in which Jeter bounced from place to place, state to state. She embarked on cross-country expeditions that took her to 47 states, met countless people from all walks of life, and saw areas of the US that most people never get to see.
However, in the mid-1990s and with an eye on the future, she obtained her General Education Development (GED) certificate and years later enrolled at Daytona State College to pursue an Associate of Arts in Science. She graduated summa cum laude from DSC and it paved her way to UCF.
"The more I got into science , the more I realized how much I enjoyed learning and that I was really good at it," she said.
Jeter thrived at UCF, and upon being accepted to St. George's University, she leapt at the opportunity to explore the world even further, while earning a premium international medical education. She matriculated in January 2012 and is working toward becoming a cardiovascular surgeon or pediatrician.
Through SGU, she took advantage of a three-week selective in Prague, Czech Republic, last summer, where she dived further into her fields of choice, doing rotations in cardiovascular surgery and pediatric neurology. She recalls a trip through the European countryside by train, traveling to more than fifteen countries. She had been on long journeys by train before, traveling cross country on numerous occasions back in the States, but this journey was different. It was the first time that she had ridden on the inside of a train.
"Looking out the windows, seeing the world, I loved that I could sit back and appreciate what's around me," Jeter said. "People say you should stop and smell the roses and I make sure that I do."
She's taken advantage of numerous other opportunities available at SGU. Jeter is a Footsteps Buddy, helping first-term students acclimate to school and life in the Caribbean, has joined the Grenada Triathlon Association, and ran the Grenada Half Marathon in November. Jeter's interests are as diverse as her experiences. She is SCUBA-certified, was president of the Women's Rugby Club at UCF, played flute, bassoon, and bass clarinet for the Naples Concert Band, and has logged more than 1,500 skydives, as a member of the United States Parachute Association.
Jeter is drawn to working with individuals who are less fortunate. From 2007 to 2012, she served as the co-founder and director of food for Rock For Hunger, an Orlando-area not-for-profit organization that cooks for 150 needy people weekly. Since 2007, Jeter has been a counselor at Camp Boggy Creek, a summer camp for children with terminal illnesses or chronic conditions.
"All the things that I've picked up along the way molded me into the person I am today … there's a reason I had all those experiences," Jeter said. "I have the drive to put my experiences to use, to excel in medical school and to become a surgeon. I will be able to relate extremely well with my patients. Between what I've done, the places I've been, and the different people I've interacted with, all these experiences I've collected will enable me to be a better doctor."
https://www.sgu.edu/wp-content/uploads/2016/10/news-jeter-profile.jpg
273
250
VS
https://www.sgu.edu/wp-content/uploads/2020/02/sgu-logo-grenada.svg
VS
2013-05-03 13:30:29
2017-01-18 00:25:41
St. George's University Medical Student Prospering after Leaving Home at Age 15