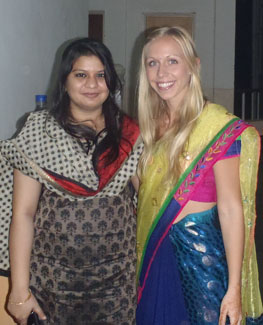 Fifth-term medical student Anne Walker described the latest step in her journey to becoming an MD as "simply exhilarating." Ms. Walker and nine of her colleagues journeyed to rural India in December 2012 for a two-week India Medical Experience Selective at Krishna Institute of Medical Sciences University Karad (KIMS).
"I was honestly a little nervous about my energy level and wondered how much I would get from the program," she confided, "especially since I was traveling to Mumbai the morning after our last final. However, I was energized by what I found when I arrived—a group of wonderful doctors, residents and administrators who were welcoming and eager to teach us."
At this state-of-the-art teaching hospital, the students benefited from first-hand patient experience in a region with a high incidence of oral and breast cancers.
"We were present during a patient interview where a woman presented with a breast lump that had been increasing in size," Ms. Walker said of her first day at the hospital. "The doctor took the time to explain the essential parts of the patient interview, after which we were given the chance to palpate and analyze the lump ourselves. Four days later, we were given the opportunity to observe the mastectomy for this same patient."
Buzzing with excitement, she remarked, "It is one thing to learn about ductal carcinomas and their proper treatment in a Robbins Pathology textbook. It is quite another thing entirely to participate in the care of a patient."
Selective students gain experience with taking patient history, conducting physical examinations, outpatient and inpatient treatments, alternative health care delivery systems, and KIMS community outreach projects designed to educate patients on the prevention and management of disease.
The curriculum provides both a diversity and continuity of experience as the students rotated through the hospital following their cases to their completion.
"The hands-on nature of the selective allowed me to really absorb everything I was learning, and I believe my experience there will prove invaluable especially as I start clinicals this coming August," Ms. Walker said. "I would highly recommend this selective program for future SGU students and would be happy to be an ambassador for it."
The India Medical Experience Selective was launched in July 2010, and qualifying fourth-term medical students travel to The Krishna Institute of Medical Sciences University Karad (KIMS) in June and December each year. KIMS is an 845-bed modern hospital with facilities for critical care, joint replacement, endoscopic surgeries, dialysis and more. Students have access to all state-of-the-art equipment at the Institute, including radio-diagnosis investigations: MRI, CT scans, mammograms, and color Doppler. St. George's University students also join medical and dental students from diverse Indian backgrounds as well as students from other countries, working together in a hospital setting and living side by side on campus.
https://www.sgu.edu/wp-content/uploads/2016/10/news-anne-walker.jpg
325
263
VS
https://www.sgu.edu/wp-content/uploads/2020/02/sgu-logo-grenada.svg
VS
2013-03-04 18:25:54
2017-01-18 00:33:20
St. George's University Medical Students in India