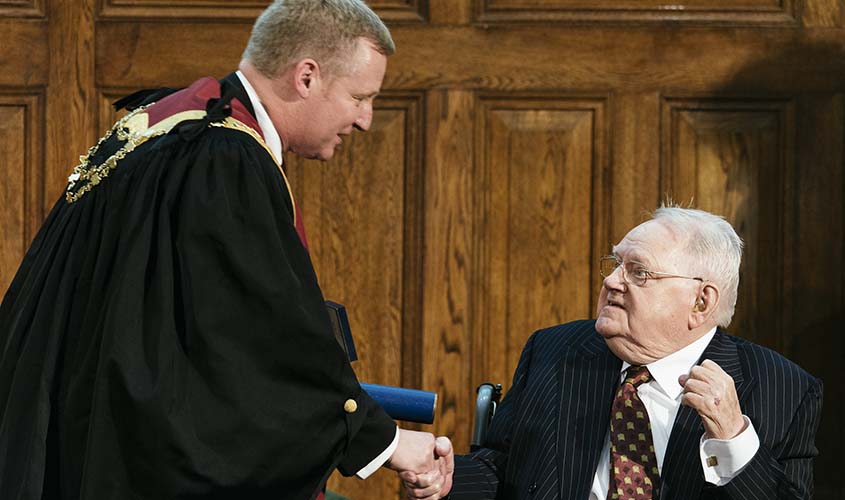 Ernest Jackson Lawson Soulsby, Baron Soulsby of Swaffham Prior passed away on Monday at his home in Swaffham Prior. As the former President of the Windward Islands Research and Education Foundation, former Chairman of the UK Board of Trustees for WINDREF, and a 20-year member of the Academic Board, he leaves behind a noteworthy legacy at St. George's University. His remarkable career spanned five decades, during which he made significant contributions to veterinary and human medicine, global public health, parasitology, immunology, and zoonosis through his teaching, inspiring leadership, and scholarly contributions.
"Lord Soulsby's contributions to WINDREF and St. George's University leave an incredible legacy, but it is in his contributions to global health and education that his legacy will most endure," said Calum Macpherson, Vice Provost for International Program Development, Dean of the School of Graduate Studies, and Director of Research at St. George's University, and Vice President and Director of WINDREF. "He will be missed by the many students and others who have met him as well as by the thousands who have relied upon his many publications, textbooks, and edited volumes in conducting their own research. His legacy in One Health One Medicine is indelible and his contributions will be missed."
A distinguished microbiologist and parasitologist, and a leader in the US and UK worlds of veterinary medicine, Lord Soulsby was the first veterinary surgeon raised to the peerage in the United Kingdom.
He advised the UK government on animal welfare, science and technology, biotechnology, and environmental issues. He was President of the Royal College of Veterinary Surgeons, the Royal Society of Medicine, the Parliamentary and Scientific Committee, the Royal Institute of Public Health, and the Royal Society for Public Health. He is an Honorary Fellow of the Institute of Biology, the Royal College of Pathologists, the Royal Society for Public Health, the Royal Society of Medicine, and the Royal College of Veterinary Surgeons (RCVS).
His career included positions as Professor of Parasitology at the University of Pennsylvania and Professor of Animal Pathology at the University of Cambridge, where he was Dean for several years. Earlier, Lord Soulsby was in general veterinary practice in the north of England, a Veterinary Officer for the City of Edinburgh, and a lecturer in clinical parasitology at the University of Bristol. He was an Emeritus Fellow of Wolfson College, Cambridge, and an Emeritus Professor of the University of Cambridge.
Lord Soulsby was also a Visiting Professor at various universities in Europe, the Far East, South America, and the United States. He is an honorary member of numerous international parasitology societies and has been awarded nine honorary degrees and several awards for his research. He published 14 books, as well as many articles in various veterinary and parasitological journals.
In 2015, the RCVS awarded him the Queen's Medal, its highest award for services to veterinary medicine. His global experience provided an incredible resource for international agencies and he served as an advisor and consultant to World Health Organization, Food and Agriculture Organization, Pan American Health Organization, United Nations Development Program, North Atlantic Treaty Organization, Department for International Development, and to numerous governments and universities.
Lord Soulsby is survived by his daughter, Katrina, and his granddaughter, Kananu. His service will be held at the Church of St. Mary, Swaffham Prior, at 2:00 pm local time on Wednesday, May 24. In lieu of flowers, donations may be made to The Soulsby Foundation.
https://www.sgu.edu/wp-content/uploads/2017/05/Lord-Soulsby-RCVS-Day-2015-2.jpg
500
845
bpmauser
https://www.sgu.edu/wp-content/uploads/2020/02/sgu-logo-grenada.svg
bpmauser
2017-05-12 20:26:56
2017-05-15 15:57:27
St. George's University Mourns Lord Soulsby of Swaffham Prior