Dr. Paul Cutler, Dean Emeritus, and longtime faculty member and administrator, died on June 16, 2006. Dr. Cutler was an esteemed colleague who was known as a tremendous teacher and a skilled physician. He began teaching at SGU as a visiting professor in the late 1970s and became a full time faculty member and Dean of the University in 1985.
"He was one of the most inspirational faculty members that we have ever had," Chancellor Charles R. Modica said. "His teaching style provoked fear in students before the start of class but always resulted in some of the most meaningful educational experiences they had in medical school."

"The thousands of students that had the opportunity to attend his lectures will most certainly remember him as an important part of their development as physicians," the Chancellor said. "He also became an effective administrator when he assumed the role of Dean at SGU."
Dr. John Cush was a student at SGU in the late 1970s and recalled the early years when Dr. Cutler taught him. "Dr. Cutler taught pulmonary and internal medicine to our class in 1979 as a visiting professor," Dr. Cush said. "He was asked to come down and teach for a short segment but ended up staying a few weeks longer. He filled in with amazing ease and expertise. In the classroom he was known for his attention to detail and for requiring very high standards from his students and peers."
"He was demanding but fair, pedantic but supportive," Dr. Cush continued. "He was a guy you feared and a guy you wanted to be recognized by. He was an icon to us back then and an important part of SGU's early success."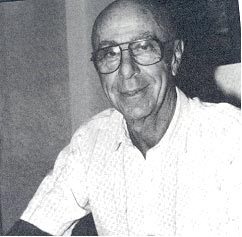 In addition to his role as Professor of Medicine and Dean of the University, Dr. Cutler served SGU as Vice Chancellor for Clinical Affairs in 1995 and assumed the role of Dean Emeritus in 1997.
Dr. Cutler earned numerous awards for his teaching abilities at SGU as well as in US medical schools. He frequently won the Golden Apple Award for Excellence in Teaching. Dr. Cutler wrote a thought-provoking textbook entitled Problem Solving in Clinical Medicine, which became a major textbook for most US schools and SGU. He was also author to several other papers and presentations.
Prior to his full-time deanship at SGU, Dr. Cutler taught at the University of Texas Medical School at San Antonio for more than 15 years and served as associate dean. He was also an honorary clinical professor of medicine at Jefferson Medical College in Philadelphia. In the mid 1960s Dr. Cutler taught medicine in Afghanistan at the University of Kabul and at the University of Nangrahar. He was in private practice in internal medicine and diagnostics in Atlantic City, NJ, from 1949 to 1965 and served in the military from 1946 to 1948. Dr. Cutler received an MD from Jefferson Medical College in 1944 and a BA from the University of Pennsylvania in 1940.
He was husband of Janie Walters Cutler and the late Helene Cutler and father of the late Marjorie Ann and Kenneth. He is survived by two granddaughters, Rachel W. and Ariane R.
Published on 07/13/2006
Save
https://www.sgu.edu/wp-content/uploads/2016/10/Dr-Paul-Cutler-Black-and-White-Portrait.jpg
237
242
smashm3233
https://www.sgu.edu/wp-content/uploads/2020/02/sgu-logo-grenada.svg
smashm3233
2006-07-13 20:02:15
2017-01-18 03:09:17
St. George's University Mourns the Loss of Dr. Paul Cutler