1997 SGU Graduate and Southside Hospital Physician Joins Dean's Office
A 1997 St. George's University graduate and longtime physician and educator at Southside Hospital in Bay Shore, NY, Chris Magnifico has been appointed Assistant Dean of St. George's University School of Medicine.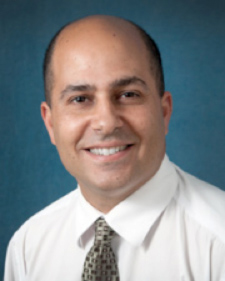 "We are excited to officially welcome Dr. Magnifico to the dean's office," said Dr. Stephen Weitzman, Dean, St. George's University School of Medicine. "As an SGU graduate himself, he has navigated the course from student to physician, which gives him the ideal vantage point from which to help lead the University in the coming years. In addition, his background in technology and computer programming will prove to be a tremendous asset for us as we integrate the newest and most exciting technological advances into our curriculum."
In addition to his role as a Hospitalist and Hospice and Palliative Care Committee Attending, Dr. Magnifico is the Director of Hospital Medical Education and an Associate Professor of Family Practice at Southside, a 341-bed hospital that is part of the North Shore-Long Island Jewish (LIJ) Health System. As Assistant Dean, Dr. Magnifico hopes to develop the technological aspects of the medical curriculum, making coursework and evaluations more computer-based, and strengthening the third- and fourth­ year core training.
Over the years, Dr. Magnifico has given back to his alma mater, teaching scores of SGU clinical students and residents. He looks forward to helping set the course for students to develop their skills and knowledge on their way to making an impact on health care.
"SGU has done wonders for me," Dr. Magnifico said. "Without SGU, I would not be in the position I am today, truly enjoying life, teaching new doctors and residents, and giving optimal care in a primary care setting. I wish that for each and every student that pursues a career in medicine, and look forward to working with Dr. Weitzman and the University's faculty and staff to continue providing an experience for students that will prepare them for their futures in health care."
Dr. Magnifico came to SGU from Stony Brook University, from which he earned his Bachelor of Science in biochemistry. After two years of basic science training, he went on to complete his clinical rotations in New York at Jamaica Hospital, Maimonides Medical Center, as well as at Southside. He continued on with Southside thereafter, completing his family practice residency there in 2000.
Having been with the hospital for more than 18 years, Dr. Magnifico has valued the opportunity to treat members of the community in which he was raised.
"As a primary care doctor, I've taken care of family members, friends' family members, staff members in the hospital, and tens of thousands of community members," he said. "You really get to know your community."
In addition to working at Southside, Dr. Magnifico has been an Associate Professor and HIV Specialist at Brentwood Family Health Center, and treats patients at the Momentum Nursing Home and Rehabilitation Center. He is board certified by the American Academy of Family Practice and by the National Hospice and Palliative Care Association.
https://www.sgu.edu/wp-content/uploads/2016/10/Christopher-Magnifico.jpg
281
225
VS
https://www.sgu.edu/wp-content/uploads/2020/02/sgu-logo-grenada.svg
VS
2015-07-21 15:10:13
2017-01-17 23:22:30
St. George's University Names Magnifico School of Medicine Assistant Dean