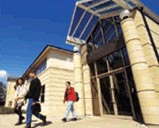 SGU and the Northumbria University unite for another innovative academic partnership designed to further enhance SGU's commitment to international medical education and health delivery.
This new Keith B. Taylor Global Scholars Program will allow SGU's School of Medicine to offer the first year of basic sciences on the Northumbria University campus in Newcastle, United Kingdom. Students accepted into this program will be matriculated at both St. George's University and the Northumbria University, although faculty and curricula will remain under the direction of SGUSOM. The courses will be the same as to course delivery, calendars, course content, examinations, etc.).
When the first year of studies is successfully completed at Northumbria University, students will proceed to Grenada to complete the second year of the basic sciences curriculum there. Student will receive a diploma certificate from Northumbria University at the end of their year at Northumbria University. They will then be offered the option of completing a bachelor's degree (Hons) with Northumbria University, while simultaneously completing SGUSOM's second year curriculum at SGU's True Blue campus in Grenada. The final two clinical years are completed at affiliated hospitals in the US and the UK
The initial pilot program will begin with a class of 50-60 eager and dedicated students this January. SGU is seeking students from developing countries who are committed to returning home to practice medicine in their home communities. SGU is also seeking students from developed countries who plan to dedicate a part of their professional careers to practice medicine in struggling parts of the world. Partial scholarships are offered for this program.
In academic partnership with the Northumbria University, SGU anticipates the future endeavors of students accepted into this program will help to transform the medical health delivery in the Caribbean region and throughout the world. It is the intention that after the SGU medical program becomes fully established and successful, SGU and Northumbria University will venture to implement other avenues of collaboration.
Northumbria University was established as a polytechnic institute in 1969 and inaugurated as a university in 1992. St. George's University was founded as an independent school of medicine nearly 30 years ago. It has evolved into a beacon of academic excellence from which more than 6,500 graduates are practicing medicine worldwide.
Keith B. Taylor Global Scholars Program
Published on 12/05/2006
https://www.sgu.edu/wp-content/uploads/2016/10/northumbria.jpg
128
159
smashm3233
https://www.sgu.edu/wp-content/uploads/2020/02/sgu-logo-grenada.svg
smashm3233
2006-12-05 20:52:38
2017-01-18 03:02:34
St. George's University and Northumbria University Expand Academic Partnership