Drs. Shivayogi and Bharti Bhusnurmath, Co-Chairs of St. George's University's Department of Pathology, presented at the International Academy of Pathology (IAP) Conference in Bangkok, Thailand, in October. IAP is the largest international organization for pathologists across the globe, and the conference will present multi-track content across the breadth of pathology, showcasing products, services, and technology through a scientific program and workshops presented by world-class speakers and experts in their field.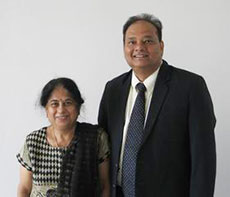 The Bhusnurmaths presented on how to teach critical clinical reasoning through the pathology course. According to Dr. Shivayogi Bhusnurmath, Dean of Academic Development at St. George's University, "This topic is important for every physician because they need to have a scientific and logical basis for every step of their interaction with the patient to be good doctors." He stated, "This includes reasoning as to what questions to ask when taking a patient's history, what activities and laboratory investigations to do when examining a patient, how these will help make a clear diagnosis and manage the patient better."
Additionally, they moderated a session titled "Frontiers in Pathology" at the meeting, presenting papers on designing teaching labs in pathology to encourage active learning in a clinical context and the use of concept maps in teaching pathology. Dr. Bhusnurmath estimated that SGU students have developed more than 100,000 concept maps over the past 12 years as part of the pathology course, allowing students to think critically and communicate effectively.
"SGU is probably the only medical school in the world where this activity is a mandatory part of the course," he said. "The presentations at the IAP Conference aim to demonstrate how we teach clinical reasoning skills. It is a matter of pride for us to showcase the academic developments at St. George's University to this vast international gathering."
https://www.sgu.edu/wp-content/uploads/2016/10/news-bharti-bhus-mar-1.jpg
197
230
jrichardsink
https://www.sgu.edu/wp-content/uploads/2020/02/sgu-logo-grenada.svg
jrichardsink
2014-10-24 20:34:51
2017-01-17 23:44:46
St. George's University Present at International Academy of Pathology Conference in Thailand