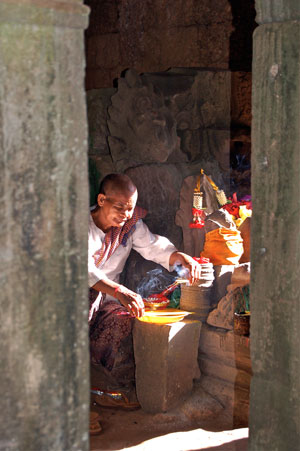 St. George's University is proud to announce the winners of the fourth annual "Focus: An SGU Perspective" Photo Contest. The response from SGU students, alumni, faculty and staff was overwhelming; we received over 500 submissions for the six photo categories, and the caliber of work made the selection process a challenging one.
"Blessings," a photo taken by Dr. Arian Nachat, MD '01, was named Best in Show by the panel. Dr. Nachat, a doctor at Walnut Creek Medical Center in Walnut Creek, CA, was in Cambodia for a friend's wedding when, in wandering through the many temples of Siem Reap, she happened upon a monk offering a blessing.
"It was during a very interesting time in my medical and personal life when I decided to pursue a second degree in Oriental medicine and was becoming more Buddhist in my life philosophy," Dr. Nachat said. "The picture spoke to me on a very visceral level and was a very intimate moment between a practitioner and her beliefs."
Dr. Nachat used a Nikon D50 55mm lens to capture the moment. "Blessings" was her first-ever submission to the photo contest.
"Each year, we ask the St. George's community-at-large to capture people, places and things at their rawest, and we are continually spellbound by the submissions we receive," said Margaret A. Lambert, Dean of Enrolment Planning, University Registrar, and Director of Communications and Publications, "The photo contest in and of itself represents the breadth of University's interests, range, and talent."
All placewinners' photos can be viewed in the 2012 edition of Mace, the University's annual literary magazine that also features stories and poems related to this year's theme, "Serendipity." The winning submissions can also be seen on the St. George's University Facebook page (facebook.com/StGeorgesU).
Check back on SGU.edu for the list of categories for this year's contest, which will revolve around the 2012 Mace theme, "Vision."
https://www.sgu.edu/wp-content/uploads/2016/10/news-serendipity-winner.jpg
451
300
jrichardsink
https://www.sgu.edu/wp-content/uploads/2020/02/sgu-logo-grenada.svg
jrichardsink
2012-02-09 19:21:40
2017-01-18 01:03:04
Serendipity – A Wedding in Cambodia Leads SGUSOM Alumni To Temple For Winning Photo