The new Provost at St. George's University, Dr. Joseph Childers has received a warm Grenadian welcome upon his arrival. Although he is new to the island, the feeling he has is a familiar one.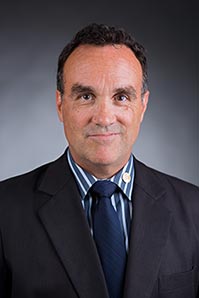 "This has been very much like coming home for me," Dr. Childers said. "Grenadian culture is, in many ways, similar to the Southern culture I grew up in. There is a certain friendliness, courtesy, and slight formality that everyone possesses. Grenadians also have an incredible joyousness – they love to laugh. I've found them to be upbeat, resilient, and proud, traits I very much recognize and respect."
Appointed Provost in October 2016, Dr. Childers will oversee the University's academic units, academic centers and initiatives, and student services, providing leadership for the planning, development, implementation, assessment, and improvement of all academic programs, policies, and supporting infrastructure for the Grenada campus. He assumed the Provost role from Allen Pensick, who has spent more than 30 years at SGU, including as Provost from 2004 to 2016. Dr. Pensick has stayed on as Provost Emeritus, assisting Dr. Childers with his transition.
"Dr. Pensick has been an invaluable resource," Dr. Childers said. "He's so well liked, so well respected, and is such a major part of the University's history. In addition to being a gracious mentor, he's a great person. I couldn't have asked for better."
Dr. Childers came to SGU after serving as Dean of the Graduate Division at University of California, Riverside (UCR) for eight years. During that time, UCR witnessed increases in graduate student diversity and student success, garnering national attention as an institutional model and for best practices.
"Having purview over an entire campus was instrumental in helping me get a sense of the specific issues facing different departments and disciplines," Dr. Childers said. "Also, because I have taught at all levels, from freshmen to advanced graduate students and even faculty, I have learned to be mindful about how to present and to ensure that people come away with an understanding of the material. It is paramount that the audience feels the environment is safe for asking questions and communicating."
At UCR, he worked alongside G. Richard Olds, then the Founding Dean of its School of Medicine and the current President and Chief Executive Officer at SGU. Together they helped create one of the US's most diverse campuses, a trait it shares with SGU, which has drawn students from more than 140 countries.
"You cannot over value the importance of diversity on any campus," Dr. Childers said. "If you're always seeing and dealing with people just like yourself, you're effectively living in a cocoon. It's important to be able to deal with difference, to see the world from alternate perspectives, and to respect other cultures, especially if you're going into a profession that demands that kind of open-mindedness and curiosity."
The oldest of five children, Dr. Childers was born in north central Indiana but as an infant moved with his family to Bentonville, Arkansas, a farming community on the Missouri and Oklahoma border. He earned his Bachelor of Arts and Master of Arts from the University of Arkansas, and went on to obtain his Master of Philosophy and Doctor of Philosophy from Columbia University.
He then joined UCR as a Professor of English, a position he held for more than 25 years. Dr. Childers has also authored two books, co-edited two others, and published numerous articles and essays on a wide variety of topics. In addition to bringing his expertise and leadership to SGU, he is joined by his wife, Dr. Karen Pyke, a well known sociologist who is a visiting professor in the School of Arts and Sciences and who is consulting on the formation of an ombuds office for the campus.
In a short time, Dr. Childers has settled in at SGU, and he looks forward to using his background as an administrator and educator to create policies, procedures, and efficiencies that contribute to its development, both regionally and worldwide.
"Before it came on the radar for me as potential opportunity, I knew it was well respected for its medical education, but I didn't know just how large of a role it has in the Caribbean," Dr. Childers said. "St. George's University is in position to become a comprehensive and truly premier international university. We are moving in that direction, and I'm tremendously excited to be a part of the University's advancement."
Published on 11/14/16
https://www.sgu.edu/wp-content/uploads/2016/11/Childers-Joseph.jpg
298
199
smashm3233
https://www.sgu.edu/wp-content/uploads/2020/02/sgu-logo-grenada.svg
smashm3233
2016-11-14 21:15:49
2017-01-17 22:44:55
St. George's University Provost Feels Right at Home