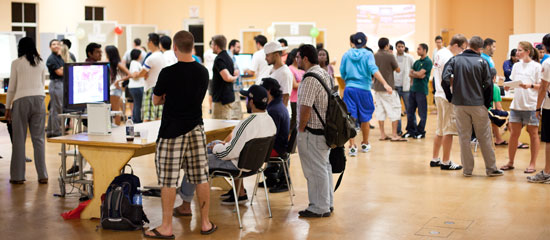 Earlier this year St. George's University students raised over $14,000 USD during the second annual Nintendo® Wii Olympics hosted by student organizations, Urban Humanitarian Project (UHP) and Iota Epsilon Alpha International Honor Medical Society (IEA). The University's Chancellor Charles R. Modica generously matched the efforts of the student body, allowing for a total donation of $28,344 USD to the Grenada General Hospital.
More than 80 volunteers came together and transformed the normally academically-intense Keith B. Taylor Hall into a video game arena, where 24 teams competed for a Wii Olympics grand prize—a 40-person boat cruise sponsored by First Impressions Ltd. Teams in the main tournament competed on six different games from Wii Sports, Wii Play, and Mario Kart. Aside from the main tournament, there were mini tournaments which comprised of Halo Reach, Street fighter, Call of Duty, Rock Band, and FIFA 2011 among others. Prizes were also awarded to winners of the mini tournaments. Apart from the gaming, the night was filled with music, raffle prizes, and refreshments for visitors and gamers.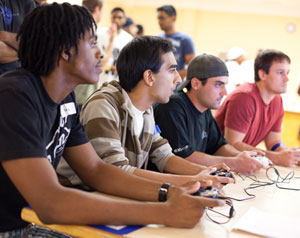 "The success of the events highlights the desire of our student body—in particular, the leadership of UHP—in enhancing the lives of people in need," stated Assistant Dean of Graduate Students Dr. Feisal Brahim. Dr. Brahim, along with Dean of Students Dr. C.V. Rao, supported the students as faculty advisor. All SGU student organizations were invited to participate in the fundraiser in addition to faculty, administration, and tutors. Two dozen student organizations came together to raise the bulk of the proceeds with local businesses in Grenada also showing their support by contributing nearly $2,000 USD to the cause.
The Wii Olympics, as part of the Grenada Health Project, began with a mission of providing Grenada General Hospital with additional diagnostic and treatment equipment to increase overall health for the island's population. Given the hospitals long-standing and close relationship with the University, students believe it is imperative to provide the hospital with much needed tools and equipment that will help provide healthcare service to the local population. Therefore, proceeds from the first Olympics went to Pakistan relief efforts; however, the UHP decided that for the foreseeable future, funds raised at its events would be earmarked for the Grenada General Hospital.
About the Urban Humanitarian Project 
The UHP is registered as a non-profit organization in NY, and it gives the opportunity for St. George's University students to participate while in their clinical years in the Connecticut, New Jersey, and New York tri-state area. Future plans for the student organization include establishing branches of UHP in other cities in the USA and Canada.
https://www.sgu.edu/wp-content/uploads/2016/10/sgu-raises-28000-nintento-wii-olympics-2011.jpg
240
550
Erin Shaw
https://www.sgu.edu/wp-content/uploads/2020/02/sgu-logo-grenada.svg
Erin Shaw
2011-07-20 03:04:09
2017-01-18 01:12:50
St. George's University Raises More Than $28,000 USD for the Grenada General Hospital