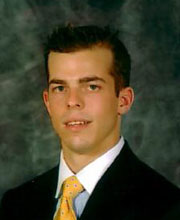 As an Emergency Medical Services (EMS) Fellow with the New York City Fire Department, Dr. Paul Barbara, SGUSOM Class of 2004, has been an active participant in numerous rescue situations in his native New York.  So upon receipt of a Multiple Casualty Incident (MCI) on the afternoon of January 15th, he prepared for an emergency situation without full knowledge of the scope of the issue.  By the initial reports however, many patients were potentially hurt and would likely require immediate physician care.
Accompanied by the Chief Medical Officer of FDNY EMS, Paul arrived at a scene most notably marked by his vision of the tail of US Airways Flight 1549surfacing New York's Hudson River. The Airbus A320 was forced to make an emergency landing moments after takeoff from New York's LaGuardia Airport when a bird strike caused loss of engine power.
Dr. Barbara, who began his EMS training as a volunteer Emergency Medical Technician (EMT) during his years in college, was then assigned to MERV 1, a Major Emergency Response Vehicle (MERV) in the fleet of FDNY EMS.  While inside this large bus-like vehicle, he would be able to treat up to 15 people at once.  The MERV was used for treatment and stabilization of any distressed passengers immediately coming from the harsh elements.  The air temperatures that day dipped to 6 degrees, but more dangerous were the frigid water temperatures from which these flight victims were being rescued.
Paul expressed that the personal challenge in such a chaotic situation is to not let your instinct and training overshadow your responsibility to perform your task at hand.  Dr. Barbara explained that with so many city, state and federal organizations descending upon the scene, it was imperative that each individual focus on their specific responsibility.  In addition to caring for four of the flight victims, Dr. Barbara and other members of his team surveyed the local emergency departments via phone and personal visits to help the EMS system properly account for the 155 passengers and crew who were taken to various metropolitan hospitals.  "While I would like to have done more that day, I realized the value of my responsibility.  I am grateful that there were no casualties, and consider this a valuable training exercise which will better prepare me for any future incidents of such caliber."
Dr. Barbara's dedication to serving his community stems from an upbringing which instilled this type of commitment and responsibility.  Both his father and mother, Gerard and Joanne, led by example as they impressed upon their children the importance of giving back. Paul's father was a 31-year veteran of the FDNY and was one of the city's highest ranking and most decorated fire chiefs.
Paul explained that his father was a tremendous advocate for education, believing that learning was a life long process. It was not until his final years at SGU that Dr. Barbara saw the similarities that their career paths had taken. "I always thought our career decisions were divergent, but in fact, as I progress with my career, I see the many convergent aspects," he said.  Dr. Barbara expressed that his father's commitment to civil service may or may not have guided his choice to practice Emergency Medicine, but it has certainly guided his aspirations to service the public through the delivery of quality medical care.
Dr. Barbara feels fortunate to be involved with the FDNY EMS during such a critical time.  FDNY is involved in significant changes which are currently assisting hospitals to improve the quality of patient care and timeliness of their response, pushing New York City EMS to the forefront of the national emergency medical services community.
As an EMS Fellow, Dr. Paul Barbara typically spends four out of five days each week serving the FDNY as an Emergency Medical Services Medical Director at 9 Metrotech Center in Brooklyn, New York.  He is also an Attending Physician in Emergency Medicine at Long Island Jewish Medical Center.  After graduating from St. George's University School of Medicine in 2004, he served as Chief Resident in Emergency Medicine at The Brooklyn Hospital Center.  Dr. Barbara also maintains an active role within the SGU community.  This includes being a member of the Office of Career Guidance and Student Development (OCG), the Clinical Department of Emergency Medicine, St. George's University's Alumni Admission Mentor Program (AAMP), and also by attending Information Sessions and assisting in recruitment efforts.   Dr. Barbara holds St. George's University and its faculty and staff near to his heart, and is grateful for the integral role the institution played in his career pursuit.
Paul and his wife have a seven-month old baby daughter and reside in Garden City, New York.
https://www.sgu.edu/wp-content/uploads/2020/02/sgu-logo-grenada.svg
0
0
jrichardsink
https://www.sgu.edu/wp-content/uploads/2020/02/sgu-logo-grenada.svg
jrichardsink
2009-01-22 16:45:06
2017-01-18 02:07:16
St. George's University School of Medicine Grad Assists NYC Rescue