Dr. Jennifer Rooney, Assistant Professor at St. George's University School of Medicine and SOM Class of 1999 graduate, received a terrific surprise in the mail last week when global education publishing house McGraw-Hill Medical forwarded a second edition of her USMLE Step 2 CS Checklist translated and printed in Japanese.
"This was an unexpected and exciting surprise," said Dr. Rooney, whose original publication of this user-friendly preparatory book was first published by McGraw-Hill Medical in 2004 with a print run of 5,000 copies. Since then, a second edition was reprinted in 2007, and is now being distributed in Asia.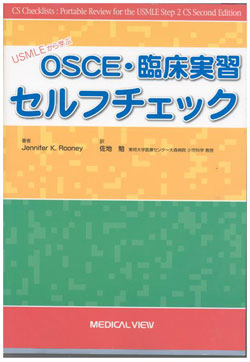 Dr. Rooney, originally from Scotland, explained that her decision to write the book occurred when the United States Medical Licensing Examination (USMLE), a three-step examination for medical licensure in the United States and its territories, became mandatory for students from the United States in 2005. Prior to this, it was a requirement for foreign medical students only.
The USMLE Step 2 CS Checklist is a small, easy-to-carry, checklist format book designed for self-testing on the elements which appear on the USMLE Step 2 CS. The Step 2 assesses whether a student can apply medical knowledge, skills, and understanding of clinical science essential for the provision of proper patient care under supervision and includes emphasis on health promotion and disease prevention.
Rooney Book CoverDr. Rooney's book focuses on several critical components which include patient-centered skills such as taking a complete health history, physical examination and write up. Also included in the book are 55 Clinical Cases which begin with a particular scenario, then provide a checklist for every item the student should consider regarding patient care, diagnosis and follow up.Dr. Rooney is pleased by the response to her book, which has been sold at the SGU on-campus bookstore, and looks forward to the USMLE Step 2 CS helping an increasingly broad group of medical students in years to come.
After her Residency in Family Practice at Albany Medical Center in New York, Dr. Rooney returned to St. George's University in 2002 as a Clinical Tutor in the Pathology, Histology and Clinical Skills Departments, respectively. Dr. Rooney is now an Assistant Professor and Course Coordinator for Term 5 and 6 students in the Clinical Skills Department. Dr. Rooney's husband, Eric Williams, is also an integral member of the SGU community, serving the University as Supervisor of the Mail Department. They have two boys, ages two and three.
https://www.sgu.edu/wp-content/uploads/2020/02/sgu-logo-grenada.svg
0
0
Erin Shaw
https://www.sgu.edu/wp-content/uploads/2020/02/sgu-logo-grenada.svg
Erin Shaw
2008-11-07 03:09:06
2017-02-07 03:32:16
St. George's University School of Medicine Grad/Faculty Dr. Jennifer Rooney Now Published in Japanese