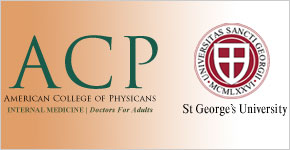 At the annual American College of Physicians (ACP) Conference in San Diego, CA, SGUSOM student Raymond Craciun received kudos for his case report on the revolutionary effects of Botulinum toxin (Botox) injections for refractory gastroparesis, a gastric disorder common in diabetics.  As a resident at St. Barnabas Hospital in Livingston, New Jersey, Raymond Craciun was assigned to a patient who was being treated with the toxin for this condition.
While Botox has gained notoriety for its use as cosmetic age-defying agent, it is a viable and effective treatment for many branches of medicine.  Raymond Craciun was not as familiar with its exact indications and overall benefit, and decided to research its use further, in part, to combat the many misconceptions of the toxin.
With the support of other residents in the program and Dr. Schuman, the overseeing Gastroenterologist, Craciun began to research the topic, compile information and prepare a case report.
With the encouragement of SGU's Dean Weitzman and SGUSOM colleague and friend Greg Tiesi, himself a 2006 ACP finalist  and the first SGU student to present at the ACP Conference, Raymond Craciun submitted his report to the ACP for consideration.With 3,000 submissions, the ACP selected a total of 70 finalist presentations, divided equally in two categories including a medical research group and a clinical vignette group. Raymond Craciun's case report was presented and evaluated by an esteemed panel of judges at the National ACP Conference in the category of clinical vignette group.  His effective and comprehensive presentation received an impressive response.  "Most importantly," said Craciun, "I felt tremendous pride representing the SGUSOM community and hope that the overall exposure helped our school and all of its students to gain well-deserved recognition and praise."
Craciun's experience at the conference and with the ACP organization as a whole is one he will not soon forget.  The ACP is a valuable resource for all medical students as it provides mentoring programs, residency information, volunteering opportunities and a variety of educational programs.  Each state has a local chapter, and membership for medical students is free.  Raymond Craciun has met with Dr. Sara Wallach, ACP NJ Chapter Governor, and plans to approach and encourage more SGUSOM students to get involved.
Published on 5/30/07
https://www.sgu.edu/wp-content/uploads/2016/10/ACP-SGU-Logos.jpg
150
290
smashm3233
https://www.sgu.edu/wp-content/uploads/2020/02/sgu-logo-grenada.svg
smashm3233
2007-05-30 18:58:20
2017-01-18 02:51:52
St. George's University School of Medicine Student Captivates Panel at American College of Physicians (ACP) Conference