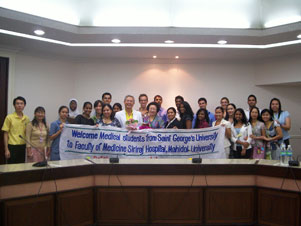 On July 16, 2007 a group of 37 SOM students set off on a two-week academic and cultural adventure to Thailand, initiating an understanding of a different view of medicine and healing. This innovative program was designed to offer participating students the opportunity to experience both conventional Western medical practices and Eastern medical practices in two different locations in Thailand.
The inaugural group of students was representative of SGU's international student body, originating from Africa, Canada, the United States and the Caribbean.  The participants were divided in half, with Group A spending the first week in Chiang Mai, a city in northern Thailand with a unique blend of spiritual and cosmopolitan life, and Group B in Bangkok, the nation's capital.  At the conclusion of the first week, Group A and Group B switched locations and began the second week in a new city.  The intimate group size was critical to the success of the program.
Through the efforts of Dr. Stephen Weitzman, Dean, School of Medicine and Mr. Michael Weitzman, appointed by SGU as a Director of Thai Services, the students maximized their experience in each location. Michael Weitzman resides in Thailand and is responsible for the administration of this program.
In Bangkok, students spent the week shadowing Thai medical students, viewing operating room procedures, performing rounds, seeing patients and attending lectures in Thailand's oldest public hospital, Siriraj Hospital.  Founded in 1888, Siriraj is the primary teaching hospital in the country, with a capacity of more than 3,000 beds and more than one million outpatient visits per year.  While it is one of the largest and most congested medical centers in Thailand, the students were impressed by the educational environment and the Thai hospitality.  In fact, many SGU students were appreciative of the faculty, staff and students' continuous attempts to communicate in English during rounds, observations and shadowing.  Janelle Applewhaite said, "More than anything I appreciate, beyond expression, the efforts made by everyone to speak English.  The doctors and medical students were all extremely willing to improve our learning experience in this way." She continued, "I enjoyed the ward rounds (which were discussed in Thai, but students were on hand to interpret for us) and valued very much the opportunities to observe procedures in the operating theaters."
SGU student Brenda Ernst eloquently describes her experience in Siriraj, "The exposure to medicine in the Bangkok hospital further motivated me to continue my active pursuit of knowledge in medicine with new excitement and new drive.  I fully appreciate the exposure to medicine in Thailand as well as the lessons in diversity impressed upon me.  It is my belief that the skills I have gained through this interaction with a unique culture will benefit me as I strive to be not only culturally aware but culturally minded in my clinical practice."
The curriculum in Siriraj was extremely rigorous, each day filled with scheduled academics.  Students looked forward to a more relaxed experience in Chiang Mai that would enable them to experience more of the Thai culture and sights.
Located 700 km north of Bangkok among some of the highest mountains in the country,  Chiang Mai is the largest and most culturally significant city in northern Thailand.
While in Chiang Mai, students learned the intricacies of Thai massage at the International Training Massage School (ITM).  ITM is accredited by the Thai Ministry of Education and approved by the Thai Ministry of Public Health.  It is also accredited and recognized internationally by many professional colleges and associations for continuing education in the regulated healthcare field.
Well known for teaching westerners and international travelers the practice of massage, this facility offers students a unique perspective as they learn the foundation and techniques of Thai massage as both a student and a participant. SGU students completed the first of five levels of courses offered at ITM, which included massage, acupressure points, the concept of energy line, yoga and Yin/Yang.  Applewhaite describes her stay at ITM as a "most fulfilling experience," feeling very confident that the techniques she learned were both authentic and inspiring.While in Chiang Mai, students availed themselves of the many cultural activities including shopping at the famous nightly bazaar, visiting the sites, hiking among the local hills and forests, Thai boxing, mountain biking, bamboo rafting, and sampling the local music and cuisine.  SGU student Kyanh Nguyen enjoyed many excursions with his fellow classmates, including elephant riding at Doi Inthanon, Thailand's highest mountain.  "The elephant ride looked simple, but in fact was phenomenal.  It was a new experience to ride at a great height on a live animal," said Nguyen.
Upon completion of the two-week program each student was asked to provide a written essay evaluating their experience and critiquing the curriculum in both Bangkok and Chiang Mai. Their response was overwhelmingly positive.  "I was hoping to gain an integrated view of medicine – one where both the allopathic and ayurvedic worked in parallel with each other.  I definitely was able to enhance what I learned in Clinical Skills and Anatomy with the time in Bangkok and Chiang Mai.  I really enjoyed both parts of the program, and hope that next year's students gain as much experience from the Selective," said Camille Immanuel.According to Michael Weitzman, plans for another Summer Selective in Thailand are underway.  Upon completion of the two-week program, of which tuition and academic expenses were funded by SGU, each student received one credit for this course…..  Clearly, they returned to Grenada with much more.
Published 10/23/2007
https://www.sgu.edu/wp-content/uploads/2016/10/Selective-in-Thailand.jpg
226
301
smashm3233
https://www.sgu.edu/wp-content/uploads/2020/02/sgu-logo-grenada.svg
smashm3233
2007-10-23 16:22:27
2017-01-18 02:43:09
St. George's University School of Medicine Students Enlightened By Innovative Selective in Thailand