Veterinary students brimming with excitement donned their white coats at the Fall 2015 White Coat Ceremony at St. George's University and recited the Oath of Professional Commitment, symbolizing their entry into the veterinary profession.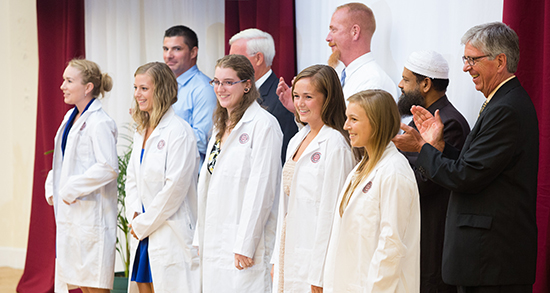 Having once sat where they are now, alumnus and Master of Ceremonies, Dr. Patrick Flynn, SGU DVM '06, knew exactly how the matriculating class felt and counseled them to make the most of this opportunity. "As with your veterinary education, the sum of your career can only equal the effort you are willing to give and the sacrifices you are willing to make. Through the highs and lows you must always remember how truly blessed you are to be given the honor of pursuing a career in veterinary medicine," Dr. Flynn said. "You're blessed because you will be able to make a difference in the world; your actions and your conduct while performing them will have the power to change the lives of your patients and the people associated with them."
Dr. Flynn's sentiments were echoed by Dr. Allen Pensick, Provost of St. George's University, who welcomed and congratulated the students. "The world needs more trained veterinarians, and by taking the oath tonight, you pledge your commitment to doing what's needed to make things better for everyone."
The Provost also took the opportunity to introduce, Dr. Richard Olds, the founding Dean at University of California Riverside Medical School and first-ever President and Chief Executive Officer at St. George's University. Dr. Olds shared a brief history of the White Coat Ceremony, noting its association with the medical profession, the nursing profession, dentists, and many others in the healing arts. He also spoke of society's earlier need for medicine to be guided by the scientific method, thus the white coat is also a lab coat.
"The purpose of the White Coat Ceremony is to remind you that, from the very first day you are involved as a health professional and you don the white coat, you also assume a great responsibility for your behavior," Dr. Olds said. "How you carry yourselves, how you interact with people, with your patients, and with those you are attempting to help is a responsibility that will stay with you throughout your entire professional career."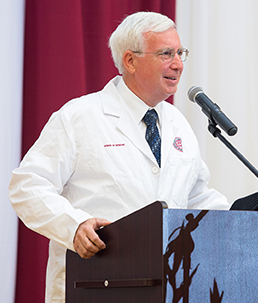 Dr. Clark Fobian, Immediate Past President for the American Veterinary Medical Association (AVMA) and member of its Executive Board, gave the keynote address where he shared a study which professed that doctors who wore their white coats were rated 15 percent higher in competency, knowledge, and clinical skills by their patients than those who did not. He discarded his own jacket in favor of a crisp white coat to emphasize his point.
"You are coming into a family, not just a profession," said Dr. Fobian. "There are approximately 100,000 veterinarians currently practicing in the US. That may sound unimpressive, but the impact that veterinarians have on their communities and on society far exceeds those numbers."
St. George's University School of Veterinary Medicine was first established in August 1999, followed six years later by the installation of the first international chapter of Phi Zeta National Veterinary Honor Society on campus, the Alpha Delta Chapter. In September 2011, the American Veterinary Medical Association Council on Education announced its full accreditation of the St. George's University Doctor of Veterinary Medicine program for seven years. The School of Veterinary Medicine continues to strive toward being leaders in providing veterinary knowledge and technology, while expanding its curriculum and adding new state-of-the-art laboratories and classrooms.
https://www.sgu.edu/wp-content/uploads/2016/10/svm-wcc-fall-2015.jpg
293
550
VS
https://www.sgu.edu/wp-content/uploads/2020/02/sgu-logo-grenada.svg
VS
2015-09-07 14:00:11
2017-01-17 23:19:34
St. George's University School of Veterinary Medicine Class of 2015 Take Oath of Professional Commitment at White Coat Ceremony