More than 1,000 DVM Degrees Conferred on Graduates Since 1999
With each round of applause during the St. George's University School of Veterinary Medicine commencement ceremony at Lincoln Center, Class of 2015 graduates had the opportunity to congratulate and celebrate with their colleagues, the newest class of veterinarians to come from SGU. All together, St. George's University conferred Doctor of Veterinary Medicine degrees to 105 graduates who came to Grenada from 32 US states and eight countries on June 16, 2015, at Alice Tully Hall in New York City.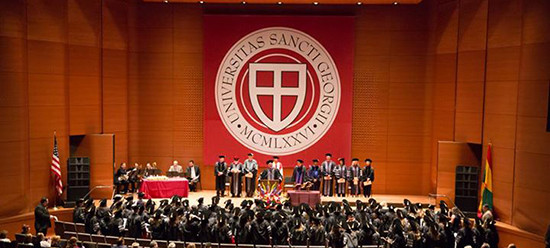 "When you first assembled in Grenada at the White Coat Ceremony four years ago, you knew that you were four years away from your lifelong dreams, but you also knew that a lot of hard work laid ahead," said Charles R. Modica, St. George's University Chancellor. "You have my utmost respect for what you have achieved, and I think you have the respect and love of all those who are here today."
Among the 2015 graduates was Anais Alamo, DVM SGU '15. Originally from Puerto Rico, Dr. Alamo spent three years in Grenada before doing one year of clinical training at the University of Tennessee. She looks forward to beginning her career as a veterinarian at Banfield Pet Hospital in Pembroke Pines, FL, this summer.
"It's emotional because ever since you were little, you dream of what you're going to become in the future," she said. "Finally you can look back and see everything you went through to get where you are right now, and you can say 'I did it.' It's such an amazing feeling. I'm very excited."
The daughter of an allergist, Christine Gerardi, DVM SGU '15, grew up around medicine, but she was drawn to the veterinary side while doing her undergraduate studies at James Madison University in Virginia. After having earned her DVM at SGU, she will join a small animal practice in Arlington, VA, this summer.
"I come back today and see my classmates who are family to me, I see my professors who I miss, and it really makes you realize what an amazing experience it was," Dr. Gerardi said. "I would do it all over again if I had to."
The Class of 2015 included six students who transferred to SGU from the American University of Antigua, which closed its veterinary school in 2011. In addition, SGU bestowed the Distinguished Service Medal to Dr. James Smallwood, Professor of Veterinary Anatomy and Radiology, North Carolina State University, and Visiting Professor in Anatomy and Radiographic Anatomy at SGU. Dr. Smallwood was recognized for his longtime contributions to SGU. In his address to the crowd, Dr. Smallwood reflected on his own career and wished the Class of 2015 the best of luck in theirs.
"Being a veterinarian is one of the most wonderful things that has ever happened to me, and I wish that in your career you're blessed with as much happiness and reward as I was," he said.
Graduates closed the ceremony by stating the customary Veterinarian's Oath. SGU has now conferred DVM degrees to more than 1,000 veterinarians since the School of Veterinary Medicine opened its doors in 1999.
https://www.sgu.edu/wp-content/uploads/2016/10/svm-graduation-2015.jpg
248
550
VS
https://www.sgu.edu/wp-content/uploads/2020/02/sgu-logo-grenada.svg
VS
2015-06-09 14:52:28
2017-01-17 23:25:30
St. George's University School of Veterinary Medicine Graduates Class of 2015