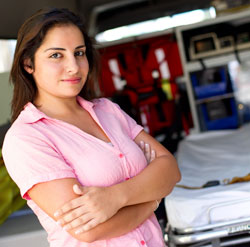 Pamela Youssef, a Foundation of Medicine student at St. George's University and native of Lebanon, saved the life of a 61-year old American tourist involved in a traffic accident in Grand Anse, Grenada.
Walking home from her daily swim at Grand Anse beach on Sunday February 27 at around 7 p.m., Pamela heard a crash involving two vehicles near the Flamboyant Hotel. She immediately rushed to the scene where her medical training kicked into gear. Pamela says, "I was a bit hesitant at first but it was like something pushed me there." Her actions are the reason one man is alive today.
The accident was exacerbated by the fact that the victim was holding a glass bottle between his legs which shattered in the accident, severing his femoral artery. Pamela found the injured man bleeding heavily and half conscious and immediately knew that the situation was very serious. "That is the moment when you think that you have nothing to lose so you need to act—by any means," she recalls.
Pamela tried to stem the bleeding with a shirt, but when this failed she used her thumb to stop the flow of blood while she waited for the ambulance. Pamela spoke to the victim and asked him questions about himself to help keep him conscious. Some well-intentioned bystanders attempted to assist by giving the man water and moving him from his vehicle, but Pamela dissuaded them, as she knew that those were both very bad ideas. Instead, she suggested they help by calming and assisting the victim's wife and the driver of the other vehicle involved in the collision, who were both physically unharmed.
Pamela leaned on the first aid training she received during the two years she volunteered with the Red Cross in Lebanon and credits her training in the Foundation of Medicine program at SGU for giving her the skills needed to assess the situation and react quickly. The basic sciences courses at St. George's provide instruction on anatomy and the regular emphasis on medical and emergency cases helped her to remain calm and confident during the incident.
The experience has reminded Pamela of the very reason she chose to pursue a career in medicine and has given her new motivation. "Nothing feels like saving a life… and I feel just lucky. I was lucky enough to be there to do it."
Pamela has since spoken to the wife of the victim who informed her that he is doing well. The couple flew home on March 3 to the US where he continues his recovery.
St. George's University is very proud of Pamela Youssef and commends her on her heroic action. We look forward to the day when she will join nearly 10,000 alumni and become a great St. George's University-trained doctor.
https://www.sgu.edu/wp-content/uploads/2016/10/news-sgu-student-save-tourist-story.jpg
247
250
VS
https://www.sgu.edu/wp-content/uploads/2020/02/sgu-logo-grenada.svg
VS
2010-03-29 18:32:13
2017-01-18 01:40:47
St. George's University Student Saves Life of Tourist in Grenada