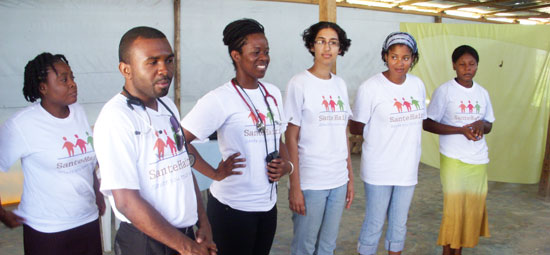 Jonathan Phillippe, MD, SGU '12 was born and raised in Haiti, moving with his family to Florida in 1999 so he could pursue higher education. He earned his bachelor's degree at the University of South Florida and earlier this year received his Doctor of Medicine from St. George's University School of Medicine. Despite his success in achieving his dreams in the US, his heart was set on giving back to his home country.
In early 2012, Dr. Philippe and SGU classmate J'Leise Sosa established Sante Haiti, a not-for-profit organization committed to providing primary care for the citizens of the Caribbean nation. For 19 days in May, Sante Haiti operated eight makeshift primary care clinics in and around the capital city of Port au Prince, treating underserved patients with issues ranging from skin infections and gastroenteritis and acid reflux and hypertension. For more severe medical conditions, they prescribed medication or referred the patient to a  specialist.
It was a rewarding experience not only for the patients but for the doctors who provided the service. "It's in my heart to give back to Haiti," Dr. Philippe said. "In a sense, this is why I became a doctor."
"Dealing with global health is second nature because of the international education we received at SGU," Dr. Sosa added. "For many of the people we saw, it was the first time they had ever seen a doctor. That we can provide the simplest aspect of medical care matters to them, and for us the feeling of satisfaction is immeasurable."
Having made regular visits to Haiti since 2008, Dr. Philippe joined with Dr. Sosa to found Sante Haiti and formalize their efforts.
"It seemed natural for us to work together," Dr. Philippe said, commenting on his philanthropic partnership with Dr. Sosa. "We realized that we had similar career goals – to care for the poor and the underserved. We both want to work toward giving more people access to care."
This year's clinic treated more than 500 patients in less than three weeks. Among them was a man that Dr. Philippe said had trouble breathing; he had also been coughing up blood and expressed that he had a family history with instances of tuberculosis. After listening to the man's lungs, Dr. Philippe concluded that he too had the disease and quickly referred him to the general hospital, who issued medication. Providing access to care is chief among Sante Haiti's objectives in the country, but it also lends a hand financially. Beginning June 1, Sante Haiti paid for the prescriptions and doctor's visits for 20 people and hopes to be able to increase their funding of such care.
"There are a lot of organizations that can help, but they charge, and most people in Haiti cannot afford to pay for medical care. When they do have money they need to use it for food and other basics," Dr. Philippe said. "I know people who have never been to a doctor. It's not because they don't want to; it's because they can't afford it. When they do see a physician and medicine is prescribed, they can't fill the prescription."
Dr. Sosa, a 2011 School of Medicine graduate who will begin her residency in OB/GYN at New York Methodist Hospital, diagnosed a 6-year-old boy who, unbeknownst to his family, suffered from severe asthma. The Trinidad and Tobago native, who also suffers from the condition, gave some of her inhalers to the family and immediately scheduled an appointment for the child to follow up with a pediatrician.
"I didn't even have to touch him; you could see how difficult it was for him to breathe," said Dr. Sosa. "A simple medication was all that was needed."
While Drs. Philippe and Sosa are back in the States three nurses will continue screening patients on a weekly basis, and Dr. Hervé Alexandre, an internist in Haiti with whom Sante Haiti worked throughout its stay, will monitor those who receive serious diagnoses. Sante Haiti hopes to purchase a quarter-acre of land, priced at $ 13,000, in the village of Onaville in order to set up a permanent clinic. They also hope to bring SGU students with them for future visits and possibly establish an elective opportunity.
"The experience is very humbling," said Dr. Philippe, who plans to pursue a career in treating infectious disease. "It reminds us why we became doctors. The happiness in the people, when you can treat them, make them feel better – there's no money we can receive that can match that feeling."
To learn more or to get involved, please visit www.santehaiti.blogspot.com.
https://www.sgu.edu/wp-content/uploads/2016/10/news-haiti-non-for-profit.jpg
255
550
jrichardsink
https://www.sgu.edu/wp-content/uploads/2020/02/sgu-logo-grenada.svg
jrichardsink
2012-06-21 19:37:41
2017-01-18 00:52:29
St. George's University Students Form Not-for-Profit to Treat Citizens of Haiti