On March 18, Match Day once again yielded tremendous results for St. George's University School of Medicine. 831 students and graduates secured highly competitive first-year residency positions at institutions across the US, many at their top-choice programs, through the 2016 National Residency Matching Program (NRMP).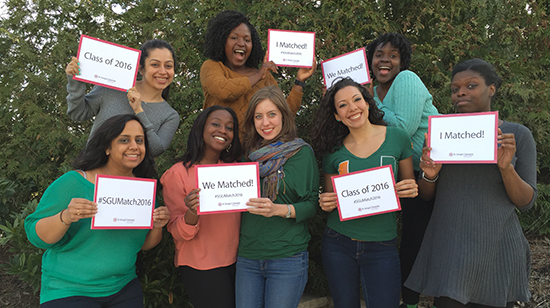 SGU alumni will report to PGY1 residency programs in the following specialties this summer: anesthesiology, child and adolescent psychiatry, child neurology, diagnostic radiology, emergency medicine, family medicine, internal medicine, internal medicine/pediatrics, neurological surgery, neurology, obstetrics & gynecology, orthopaedic surgery, pathology, pediatrics, physical medicine and rehabilitation, psychiatry, and surgery. Residencies were secured in 41 states as well as the District of Columbia. In addition, nine students matched through the Canadian Resident Matching Service (CaRMS).
"St. George's University continues its proud tradition of providing the US and Canadian health care systems with highly qualified physicians," said G. Richard Olds, President and CEO at SGU. "We applaud these students and graduates for the commitment to their goals and to the communities they will serve during the next chapter of their careers."
Among them is Justin Roberts, who was overjoyed to have matched to an anesthesiology residency at Rutgers-Robert Wood Johnson Medical School. Staying local was of utmost importance to the New Jersey native, and he and his fiancée celebrated at home when news arrived that he had matched with his top choice. Mr. Roberts will begin his postgraduate experience this summer by conducting a preliminary year with Jersey City Medical Center's internal medicine residency program, a position with which he pre-matched.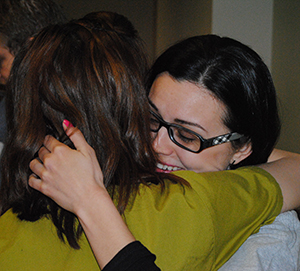 "I fell in love with the program at Rutgers," he said. "I really liked the program director and the feel of the place. It's everything that I wanted in a program. I look forward to practicing anesthesiology because I love working with my hands and I enjoy being around a patient in a true time of need."
Fellow 2016 graduate Nicole Bilbro spent three years in Grenada – the first to complete a Master of Public Health and the next two studying the basic medical sciences. She had "an incredible experience" at SGU and on the island, and looks forward to starting her general surgery residency at Maimonides Medical Center in Brooklyn, her top choice in the field, this summer.
"When I found out, I was ecstatic," Ms. Bilbro said. "Maimonides was my number one choice because of the outstanding faculty and residents. The hospital also has the only dedicated breast cancer center in Brooklyn and was a perfect fit as I plan to pursue a breast surgery fellowship following residency."
Since opening in 1977, St. George's University has graduated more than 13,000 physicians who have gone on to practice in all 50 US states and more than 50 countries worldwide. According to published information, SGU has placed more doctors in first-year postgraduate positions than any medical school in the last five years combined.
Stay tuned as SGU is learning each day about more postgraduate positions gained through the Supplemental Offer and Acceptance Program (SOAP) or outside of the Match entirely. For a complete list of 2016 residency appointments to date, visit the SGU website.
Published on 3/22/16
https://www.sgu.edu/wp-content/uploads/2016/10/match-day-students-celebrating-with-signs.jpg
308
550
Erin Shaw
https://www.sgu.edu/wp-content/uploads/2020/02/sgu-logo-grenada.svg
Erin Shaw
2016-03-22 18:10:21
2017-01-17 23:02:29
St. George's University Students and Graduates Flourish on Match Day