St. George's University students continue to make the grade on the first major step on the way to becoming a practicing physician in the US – the United States Medical Licensing Examination (USMLE) Step 1. SGU students taking the exam for the first time in 2015 registered a 96 percent pass rate, a mark achieved by students from 45 countries. These students recorded an impressive mean score of 224.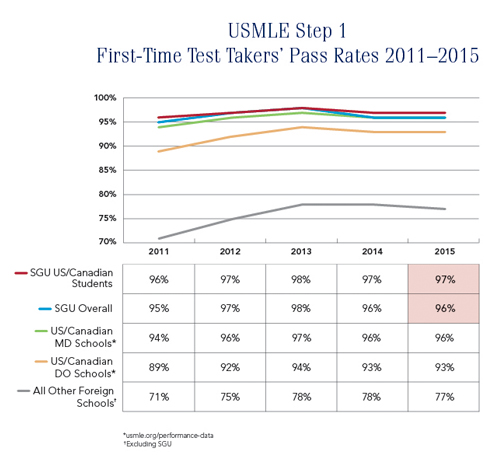 "We congratulate these students on their individual success as well as their efforts collectively," said Dr. Stephen Weitzman, Dean of St. George's University School of Medicine. "Their aptitude on the USMLE 1 is a testament to their commitment to their studies and their future. In addition, we applaud our faculty and staff, who take great pride in preparing students with the knowledge and skills they need to develop into highly successful physicians."
St. George's University students from the United States and Canada who took the test for the first time posted a pass rate of 97 percent. The same category of test takers from US and Canadian medical schools registered a 96 percent pass rate, while students from US and Canadian osteopathic medical schools passed at a 93 percent clip.
The 2015 pass rate marked the fifth consecutive year that the University's overall first-time pass rate on the exam surpassed 95 percent.
Designed to measure basic science knowledge, the USMLE Step 1 is comprised of more than 300 multiple-choice questions on topics ranging from the biology of cells and human development to the central nervous, musculoskeletal and endocrine systems, among others. A passing score on all three parts of the USMLE is required to practice medicine in the US.
Published on 4/27/16
https://www.sgu.edu/wp-content/uploads/2020/02/sgu-logo-grenada.svg
0
0
Erin Shaw
https://www.sgu.edu/wp-content/uploads/2020/02/sgu-logo-grenada.svg
Erin Shaw
2016-04-27 13:32:22
2017-01-17 22:59:50
St. George's University Students Record 96 Percent Pass Rate On USMLE 1 in 2015