University of St. Thomas in St. Paul, Minnesota, has joined with St. George's University offering students an opportunity to obtain a BS/MD or BS/DVM degree. Qualified students are able to pursue a career in medicine at St. George's University following successful completion of the preclinical program at St. Thomas.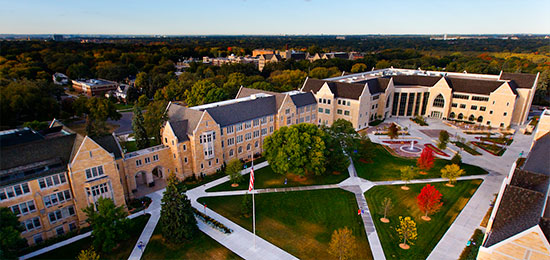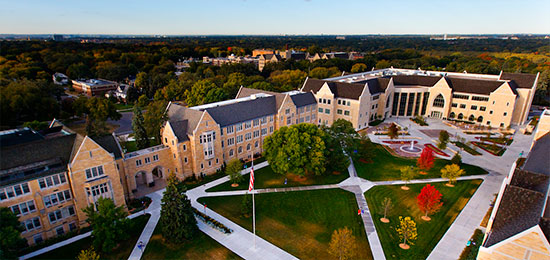 "We are extremely proud to establish this pipeline with an institution of the caliber of the University of St. Thomas," said Margaret A. Lambert, dean of enrollment planning at St. George's University. "Doing so allows the brightest students to attain a first-rate medical education that will amply prepare them for their careers as physicians or veterinarians, no matter where they choose to go."
The brainchild of St. George's University Chancellor Charles Modica and the former University of St. Thomas president, Father Dennis Dease, the agreement was signed in early 2013 following a visit to St. George's True Blue Campus by Susan J. Huber, Ed.D.Exec. Vice President and Chief Academic Officer and Eleni Roulis,Ph.D. Associate Vice-President for Academic Services and Special Programs.
Applicants admitted to this combined degree program are granted a pathway from their undergraduate degree in biology or health sciences to a Doctor of Medicine or Doctor of Veterinary Medicine program. Students admitted to the pathway program complete their undergraduate degree in Biology or Health Sciences at University of St. Thomas in four years, and upon meeting established admission criteria progress into the four-year Doctor of Medicine (MD) or Doctor of Veterinary Medicine (DVM) program at SGU.
In addition to the St. Thomas partnership, St. George's maintains partnerships in the United States with the New Jersey Institute of Technology (NJIT)/Albert Dorman Honors College, St. Michael's Medical Center, Caldwell College, Franklin Pierce University, University of the Sciences, Monmouth University, and Widener University. The University has similar partnerships with schools in the United Kingdom, Bermuda, Grenada, Guyana, and Uganda.
https://www.sgu.edu/wp-content/uploads/2020/02/sgu-logo-grenada.svg
0
0
jrichardsink
https://www.sgu.edu/wp-content/uploads/2020/02/sgu-logo-grenada.svg
jrichardsink
2014-03-14 19:37:30
2020-10-13 16:35:47
St. George's University and University of St. Thomas Join to Offer Preclinical and Pre-Vet Students Combined BS/MD Degree