Students in St. George's University School of Medicine and the University's Keith B. Taylor Global Scholars Program waited with excitement, exuberance, and a bit of apprehension. In two ceremonies, in two countries, the Spring 2013 class of 560 medical students took their first step in the journey that is medical school.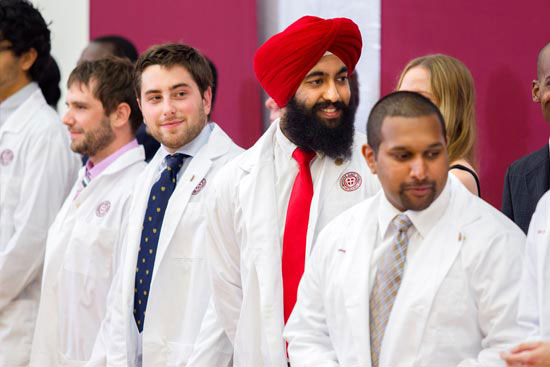 It is a milestone that SGU graduate Leslie Griffin, MD, MPH '08, vividly recalled when as a new medical student she began her medical career at St. George's University. Dr. Griffin, now a clinical faculty member at University of Tennessee Family Practice, put the feeling into words as the master of ceremonies at the School of Medicine White Coat Ceremony in Grenada on Monday, January 21.
"You chose a medical school that will not only provide you with an excellent education, but with access to experiences with diverse medical systems and cultures," Dr. Griffin said, "Over the next four years you will create lasting relationships that will help you as you advance though the trials of being a medical student on towards residency and beyond."
Delivering a spirited and passionate address, keynote speaker Charles Twort MA, MD, FRCP, FRCPE, a consultant physician in general and respiratory medicine at Guy's and St. Thomas' Hospitals, described the White Coat Ceremony as a symbol of humanism and the coat as a cloak of responsibility, trust, and purity.
"You're amongst the greatest and the brightest of the crop; however you have a responsibility as a future doctor to link your academic intellect with your care for individual patients," Dr. Twort said. "The donning of the white coat is a symbol of respect and trust from your patients, but this respect must be earned and kept."
Emphasizing communication as the key to success, Dr. Twort continued, imploring students to "listen to your patients without interrupting and give them information in words they can understand. Avoid medical jargon so your patients can confidently and collaboratively make decisions with you about their healthcare."
The entering class of students in Keith B. Taylor Global Scholars program took their professional oath in a ceremony at Domain Hall within the Northumbria Students' Union building in Newcastle, UK.
Dr. David Pencheon, the director of the National Health Service (NHS) Sustainable Development Unit, was the keynote speaker for the evening. He explained that patients demand two important qualities from their doctors. First, they must be a strong communicator, particularly by listening thoroughly to their patients' experiences, abiding by the phrase "Trust me, I'm your patient."
Second, he insisted that doctors must build and foster lifelong relationships with their clientele, serving as a resource for their patients. Doctors will first do something to a patient, then for a patient, and through forming a strong bond, then ultimately with a patient.
In addition, Dr. Pencheon insisted that the future doctors must distinguish and relay the causes of health, a quality as crucial as seekin g the causes of disease.. Looking ahead to the future, Dr. Pencheon explained the world needs leaders who rank global health foremost among their priorities. He said that doctors shine in critical times, but such situations would not arise if budding issues were addressed before they became a widespread problem.
Addressing the incoming students at the white coat ceremony in Grenada thirty-six years and four days after the School of Medicine accepted its first class; St. George's University Chancellor Charles Modica referenced the humble beginnings of the University. Despite its many changes throughout the years, he stated, "One thing that hasn't changed is the true desire in classes such as this, to become physicians and to serve fellow men, and that's what we're all about – pursuing dreams and making them happen."
https://www.sgu.edu/wp-content/uploads/2016/10/news-2013-som-wcc.jpg
367
550
VS
https://www.sgu.edu/wp-content/uploads/2020/02/sgu-logo-grenada.svg
VS
2013-01-29 14:57:00
2017-01-18 00:36:56
St. George's University Welcomes 560 Students at Spring 2013 School of Medicine White Coat Ceremonies