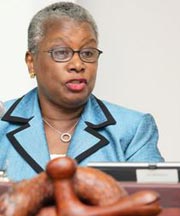 Dr. Beverly Bonaparte has been named St. George's University Dean of Nursing and Allied Health Sciences. Her extensive career is marked by a plethora of ground-breaking accomplishments both internationally and in her home country of Jamaica; work that has spurred important changes in the health care delivery system, government, academia, and private industry.
Dr. Bonaparte takes on the role as Dean of Nursing and Allied Health Sciences as the first group of graduates from the Nursing Program prepares to receive their degree in nursing. In August 2008, St. George's University inducted 25 students into the inaugural class of the four-year program leading to the Bachelor of Science in Nursing (BSN) degree. Since that time, a total of 55 young men and women have enrolled in the program.
Dr. Bonaparte's plan to build the program at St. George's University is directly influenced by the extreme shortage of qualified nurses and nursing educators worldwide. Her initiative at St. George's University includes: inviting qualified faculty with doctoral degrees in nursing to actively participate in the program; instituting stronger admission criteria; creating a pre-nursing foundation sequence which will include core curriculum in chemistry and biology, and expanding the use of the University's high fidelity human simulation lab as part of the nursing curriculum's clinical component. Dr. Bonaparte noted that a human simulation lab is a tremendous asset in clinical education and have changed the way in which nurses and health care professionals learn to do direct patient care.
As the University moves forward with these endeavors, Dr. Bonaparte will be reaching out to new audiences of nursing students, including recruiting liberal arts students on our own campus and elsewhere who may benefit from the option of obtaining a second degree in nursing. She has expanded the BSN program to provide the option of an accelerated 15 month program for students who enter the program with a bachelor's degree in another field. Dr. Bonaparte also plans to build on the extensive affiliations St. George's University currently has with other universities and health care institutions in the United States, Canada and the UK by responding to invitations to explore linkages between SGU and their nursing programs, thus providing international nursing education experiences for our nursing students. Additionally, emphasis on faculty research through collaboration with the Windward Islands Research and Education Foundation (WINDREF), and the establishment of an advisory committee of international nursing leaders will help secure St. George's University reputation as a respected and sought after nursing program.
Dr. Bonaparte's exceptional skill set will serve to strengthen the existing nursing program at St. George's University, and create "a center of excellence in the country, region, and globe." Her forty-year career is marked by a host of faculty and administrative positions at top-tier academic institutions which include: Chair of Master's programs at New York University, Professor and Dean, Pace University, Lienhard School of Nursing; Chairperson and Professor, Medgar Evers College /CUNY, Department of Nursing; and Senior Fulbright Scholar, University of the West Indies, School of Nursing, Mona.
Throughout her academic career, Dr. Bonaparte has enhanced her credentials which include a PhD in Nursing from New York University with numerous certification programs from Harvard University, University of California at Berkeley, and University of Pennsylvania. She is eager to bring her experience to the St. George's University Nursing Program, and expressed high hopes for its future. "All the right components are here on the True Blue campus, to support an excellent nursing program."
In addition to her academic vocation, Dr. Bonaparte's entrepreneurial spirit and talent has led to the establishment of her own international health care consulting firm. This has earned her a reputation for successfully restructuring and/or managing complex organizations which include the University Hospital of the University of Medicine and Dentistry of New Jersey, William Patterson University. She has also been engaged in capacity building projects for New York University AIDS Education and Training Center and the Education Development Center.
Prior to starting her Florida based international and health care consulting firm, Dr. Bonaparte headed the Corporate Nursing Division at the New York City Health and Hospitals Corporation (NYCHHC), the largest public hospital system in the United States. In this capacity, she managed a budget of more than $400 US million and was recognized for developing new programs that provided education and career advancement opportunities for the more than 11,000 nurses and nursing support staff in the HHC hospitals.
The Nursing Program was conceived as a response to the mandate by the Caribbean Community (CARICOM) that all nurses in the region hold a BSN degree by 2010. This program is uniquely structured to allow enrollees to complete the program in 3 years and sit for regional and international licensing exams. Upon successful completion of these exams, the students can join the workforce and be positioned to pursue advanced studies in nursing at the Master's degree level.

https://www.sgu.edu/wp-content/uploads/2016/10/Beverly-Bonaparte-medium.jpg
216
180
VS
https://www.sgu.edu/wp-content/uploads/2020/02/sgu-logo-grenada.svg
VS
2010-03-16 14:12:18
2017-01-18 01:41:36
St. George's University Welcomes New Dean of Nursing and Allied Health Sciences