St. George's University's Department of Public Health and Preventive Medicine (PHPM) recognized International Public Health Awareness Week with a series of events and activities emphasizing the importance of disaster preparedness.  The theme was selected to complement that of World Health Day 2009, which focused on securing the safety of hospitals and health care facilities in emergency situations.
St. George's University's Public Health Awareness Week kicked off with a Sunday evening gala at the University Club on April 5th attended by 80 or so St. George's University students, faculty and community collaborators.  Provost Dr. Allen Pensick greeted the attendees, making mention that 2009 was particularly significant as it marks 10 years since the inception of the Department of Public Health and Preventive Medicine.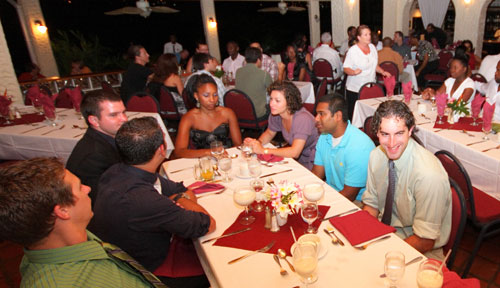 Since that time, the Department has proven itself an integral part of the University and the neighboring communities.  With a graduate record nearing 500 alumni including over 40 Grenadians, the PHPM is dedicated to building the human and health resource capacity of Grenada. Through numerous collaborations which include the Ministry of Health, Ministry of Agriculture and most recently with the Grenada Cooperative Nutmeg Association (GCNA), the University is committed to applying its research capabilities and expertise to community service on an increasingly global scale.
Dr. Satesh Bidaisee, Deputy Chair, Practicum and Alumni Relations Coordinator, was thrilled with the success of Public Health Awareness Week, as it provided a dynamic platform to educate its audience on the importance of disaster management as well as capitalized on the impressive accomplishments and promising future of the PHPM.
Dr. Bidaisee, who received his Master of Science Public Health from St. George's University, explained that the overall "Past, Present, and Future" theme of the program was most appropriate: the past being represented in part by alumni such as public health practitioners in Grenada or medical and veterinary medical students at SGU; the present by the students and faculty in attendance — including School of Veterinary Medicine Dean Raymond Sis, Provost Pensick and Dr. Omur Cinar Elci, Department Chair, PHPM —  and most notably the future as St. George's University initiates numerous projects with key stake holders in the community including the aforementioned Ministries of Health and Agriculture, Grenada Nutmeg Association, Grenada Food and Nutrition Council, Grenada Solid Waste Management Authority, T.A. Marryshaw Community College, Pan American Health Organization (PAHO), the University of Trinidad and Tobago and several other local and regional institutions.  These collaborations, says Dr. Bidaisee, are in response to the University's position of having a moral responsibility to contribute productively and positively to the country and region that has hosted SGU on its shores.
In addition to an evening of great friends and a sumptuous buffet, Dr. Bidaisee provided the grand finale for the opening gala dinner, entertaining the audience with his original calypso tune titled "Celebrating Public Health Tonight."
The Department of Public Health and Preventive Medicine has embraced a mission to promote the "One World, One Health, One Medicine" approach which was successfully communicated throughout the week.  On Monday evening, April 6th, students from both the School of Medicine and School of Veterinary Medicine presented research projects which further reinforced the University's position. This event was coordinated by Dr. Muge Akpinar-Elci, Associate Professor, PHPM who apart from supervising and mentoring several of the student researchers, chaired the evening of presentations.
On Tuesday, April 7th, the official World Health Day 2009, Mr. Kennedy Roberts, Instructor, PHPM organized a panel discussion on the topic of disaster preparedness. The panel included Mr. Aris Scott, Instructor, School of Medicine; and Mr. Sylvian McIntyre, former Director, National Disaster Management Authority at the time of Hurricane Ivan. These presentations were shared with over 50 students at a Forum on Disaster Management held at the Caribbean House on True Blue campus.  Along with Dr. Theresa McCann, Associate Dean of Basic Sciences, Mr. Scott is credited with developing the Basic Sciences Selective, Trauma Life Support, featuring the International Trauma Life Support curriculum.
The week-long program closed on Thursday, April 9th, with a movie showing of the 1995 suspense film "Outbreak" at Founders Annex.  The film raised several "What if?" scenarios should a massive virus outbreak occur, and served as a powerful point of discussion on infectious diseases and preparation for this type of emergency disaster.  Robert Cruz, President of the Public Health Students Association, served as the presenter during an insightful session.
As the University embarks on a new decade for the Department of Public Health and Preventive Medicine, Dr. Bidaisee explained, "St. George's University has proven itself time and again in the arena of teaching. We will be placing equal emphasis on research and service as we move forward, measuring our success by quality of medical and veterinary medical professionals that are trained in the discipline of preventive medicine and the positive impact to the quality of lives of persons in Grenada, the region and everywhere graduates of the program contribute towards human development."
The proceeds from Public Health Awareness Week were offered to the Grenada Public Health Association, a local professional association that has its genesis in the PHPM Department and is populated by graduates of the program.
https://www.sgu.edu/wp-content/uploads/2020/02/sgu-logo-grenada.svg
0
0
jrichardsink
https://www.sgu.edu/wp-content/uploads/2020/02/sgu-logo-grenada.svg
jrichardsink
2009-04-23 16:26:49
2017-01-18 01:54:56
St. George's University's Public Health Awareness Week Promotes Disaster Preparedness