Surrounded by water, Grenada has a deep appreciation for the sea, its inhabitants and the joy it can bring to the community. St. George's University is doing its part to preserve the livelihood offshore and throughout the region with its state-of-the-art aquatic laboratory and marine center, which supports fresh- and salt-water aquariums and also houses equipment for lab work in microbiology.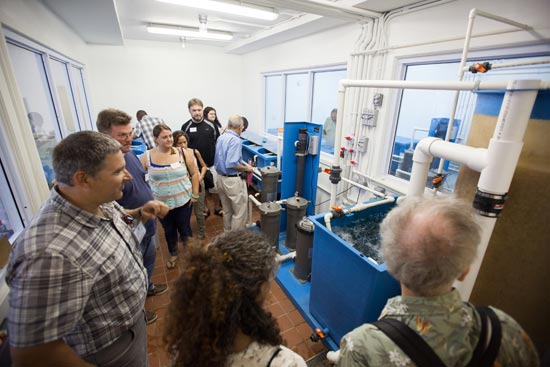 "The aquatic lab opens up all kinds of opportunities for research not just in infectious diseases but in aquaculture," said Dr. Ross Peterson, an instructor of veterinary microbiology and aquatic animal medicine at SGU. "There is more and more of a push away from catching wild stocks and towards raising fish in a farm setting. Fish are pretty much the only food humans still get mainly by hunting and we are depleting that resource. My hope is that we can work on some of these species that are consumed, especially in the Caribbean."
Custom-made by Waterline Systems of Prince Edward Island, Canada, the lab is home to tilapia and spiny lobster, the latter a feat made possible by salt water continually being pumped in from the ocean. "Our spiny lobsters are growing very well to the point where they are shedding on a regular basis," said Dr. Hugh Ferguson, director of SVM's marine program. "This is very unusual in a laboratory setting. Being able to keep these species inside the lab and not only have them survive but thrive is just wonderful."
Although it is under the School of Veterinary Medicine, the lab is available for use by the entire University community and it currently facilitates several research projects. Dr. Richard Kabuusu is researching a mysterious die-off of tilapia at a farm in Ecuador with the tilapia at the lab here as his control subjects, Dr. Thomas Eurel is working on an innovative strategy to transplant corals, and Dr. Peterson recently conducted a study on land crabs from around Grenada. Several students are also conducting and assisting in research, and there is an elective where students are taught anesthesia and surgery for fish.
The aquatic lab was also the centerpiece for the first St. George's University School of Veterinary Medicine (SGUSVM) Continuing Education (CE) conference, with the theme 'An Overview of Aquatic Animal Medicine for the Veterinary Practitioner,' held from February 16-20, 2013. It was the first in a series SGUSVM will host in its bid to attain full CE provider status by mid-2014.
Conference participants involved in fish farming, small animal community practice, and those with an interest in exotic fish all found immense value in the conference. They earned CE credits and certificates of participation. Sessions on veterinary dentistry and surgery are scheduled for later this year.
"It is very important to keep practitioners aware of new programs, medicines and techniques," added Catherine Wybern, coordinator for the conference. "It was very rewarding to see brilliant minds come together and share."
Big plans are in store for the lab. Dr. Peterson hopes to soon see zebrafish, which are increasingly used in medical research, bred at the lab, as the tilapia were. He also hopes to see more work done in aquaculture, which can have an impact on food security and the Grenadian economy.
https://www.sgu.edu/wp-content/uploads/2016/10/aquatic-lab.jpg
367
550
VS
https://www.sgu.edu/wp-content/uploads/2020/02/sgu-logo-grenada.svg
VS
2013-04-29 13:43:38
2017-01-18 00:26:57
St. George's University's State-of-the-Art Facility a Haven for Fresh- and Salt-Water Aquariums