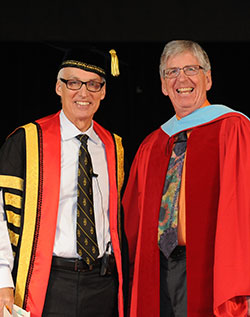 To honor his outstanding and ongoing contribution to veterinary medicine throughout his nearly four decades in this field, Dr. Timothy Ogilvie, Dean of St. George's University's School of Veterinary Medicine, has been awarded an honorary Doctor of Laws Degree from his alma mater, the University of Guelph.
"Dr. Ogilvie is a visionary with the leadership skills needed to turn ideas into constructive outcomes," said a citation from University of Guelph's Senate. "Throughout his veterinary career, he has utilized his talents to engage youth, mentor students, advance the profession, and enhance education and research. The impact of his achievements has improved the health of the communities and environment in which we live."
Prior to joining the SGU family, Dr. Ogilvie served at the University of Prince Edward Island (UPEI) where he helped found its Atlantic Veterinary College (AVC). He served as Dean at AVC from 1998 to 2008, becoming its longest-serving dean. Under his leadership, AVC was able to secure funding to establish a national Virtual Veterinary Medicine Learning Community, which allowed students and faculty to develop and seamlessly share expertise and resources. It was the first in Canada to link all colleges of one profession.
In 1999, Dr. Ogilvie also developed the AVC Veterinary Camp for junior high and high school students to get hands-on experience in veterinary medicine. The camp, one of the first of its kind in North America, has been attended by over 2000 students from all around the world and has won Canadian Awards for Community Outreach.
Dr. Ogilvie also demonstrated innovation in his leadership roles in organizations such as Genome Atlantic, AVC Inc., one of the first corporate arms of UPEI, and AquaNet, a centre with the Network of Centres of Excellence for the aquaculture industry. Dr. Ogilvie has also held membership in the Wind Energy Institute of Canada, served as Chair of the PEI Lobster Industry Roundtable, and sat on the World Animal Health Organisation's Committee on Global Veterinary Education (CGVE).
Dr. Ogilvie joined SGU in January of 2014, and has already begun using his extensive experience in the field of veterinary medicine to continue to move the school forward. Under his directorship, the SVM is making several important changes, including fostering the open flow of information, implementing direct outcome measurement earlier in students' tenure, and developing a strategic plan and vision for the School for 2020. He has also started the SVM Dean's Newsletter in which he communicates plans and developments to staff and faculty.
https://www.sgu.edu/wp-content/uploads/2016/10/ogilvie-hooded.jpg
317
250
VS
https://www.sgu.edu/wp-content/uploads/2020/02/sgu-logo-grenada.svg
VS
2015-01-20 14:43:21
2017-01-17 23:38:49
St. George's University's SVM Dean Receives Honorary Doctor of Laws Degree