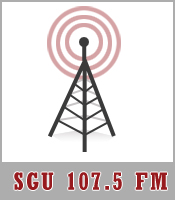 On October 1, 2007, the much-anticipated University radio station electrified the airwaves of St. George's University and the neighboring Grenadian communities.
While SGU 107.5 FM is in its fledgling stages, its inaugural air date made an important connection between the community and the University. As the University continues to expand, radio is an appropriate and dynamic vehicle for communicating SGU's educational mission.
SGU 107.5 FM is a non-commercial radio station run by the Office of University Communications (OUC).  Broadcasting from the True Blue campus to a relay station at Grand Etang, the signal reaches approximately half of the Island.  The station is committed to balanced, non-partisan, non-denominational, community-oriented programs designed to educate, entertain and attract the widest possible audience as it serves the interests of SGU's internal and external communities.
According to Terry Williams (T.W.), a seasoned radio personality and the station's talented technical operator, "SGU 107.5 FM is not just a radio station, it is an education."  T.W. has worked with Grenada Broadcasting Network (GBN) and other radio stations across the Island and has been involved in SGU 107.5 FM from its inception. With new equipment, an actual studio and its broadcasting license, SGU 107.5 FM is well on its way to achieving its goal.
Over the next year, the focus of the station is to expand the programming beyond music. Prudence Greenidge, the Radio Station Director, explains: "As a community radio station we have a responsibility to our listeners to create an interactive educational environment which is also entertaining. There is a dynamic team working on making SGU 107.5 FM great radio and we are grateful for them and for our listeners. We continue to remind listeners that it is important for them to tell us what they want to hear. None of it will happen overnight, but we are satisfied that we have made a good start and have devised a plan to take us through this academic year."
In an effort to serve the community at large, the radio station will be linked closely with the University's disaster preparedness and response initiatives, providing critical and accurate information in the event of an emergency.
Over the next year, the station will also work closely with the various Schools of the University to provide an interesting and interactive medium of communication between SGU and the public.  SGU 107.5 FM programming will expand to include interactive shows, community service announcements and talk time.  New announcers and personalities are expected to join the broadcast team by next semester.
Published on 11/29/07
https://www.sgu.edu/wp-content/uploads/2016/10/SGU-1075-FM.jpg
200
175
smashm3233
https://www.sgu.edu/wp-content/uploads/2020/02/sgu-logo-grenada.svg
smashm3233
2007-11-29 16:55:15
2017-01-18 02:39:07
St. George's University's Voice Electrifies the Airwaves