The World Health Organization has re-designated St. George's University Department of Public Health and Preventive Medicine (DPHPM) as a Collaborating Center on Environmental and Occupational Health through 2020.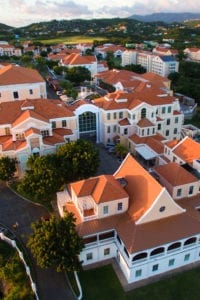 Collaborating centers implement activities in support of WHO's programs, and are beneficial to both WHO and regional countries; the WHO gains access to top centers worldwide and receives the institution's support in implementing its global health initiatives. In return, the collaborating centers receive visibility and recognition by national and international authorities. Additionally, the WHO affiliation helps collaborating centers develop partnerships with other collaborating centers, which can help generate resources from funding partners.
This center is directed by Dr. Martin Forde, DPHPM Chair and Track Director for the MPH in Environmental and Occupational Health, as well as DPHPM Demonstrator Odran Nigel Edwards. The Center works in concert with the Grenada Ministry of Health and the Pan American Health Organization's Caribbean Program Coordinator office in Barbados.
"This prestigious designation will allow us to carry out several key research projects under the auspice of the PAHO/WHO name which, in turn, will further enhance our ability to attract additional funding and research opportunities," Dr. Forde said. "Over the next four years, we look forward to strengthening and expanding the utility of our Collaborating Center so that it can redound to the benefit of Grenada and other SIDS in the Caribbean region."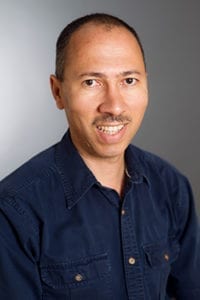 The first of its kind in the Caribbean, the WHO CC at St. George's University was established in August 2012. It remains committed to contributing to WHO's strategic program in a number of ways, including: to assess and manage occupational safety and health hazards; to collaborate with WHO in developing evidence-based research on emerging environmental and occupational health issues, including climate change; to provide, develop and disseminate curricula, training materials and training for environmental and occupational health capacity building in the Caribbean region; and to contribute towards the implementation of the Global Plan of Action on Workers' Health and collaborate with other collaborating centers to achieve defined outcomes.
In addition to housing this WHO collaborating center, the DPHPM also houses a Regional Collaborating Center for the United Nations Framework Convention on Climate Change (UNFCCC). Recently, the University welcomed 10 regional conservation leaders to True Blue for a "Caribbean Non-State Actor Dialogue." Under the guidance of SGU professor Hugh Sealy, lead negotiator for the Alliance of Small Island States and co-facilitator of international discussions of Article 6 of the Paris Agreement, the team discussed how to interpret and operationalize elements contained in the COP21 deal in order to assist countries' efforts to curb greenhouse gas emissions and limit temperature increase.
Published on 8/18/16
https://www.sgu.edu/wp-content/uploads/2016/10/Forde-Martin.jpg
375
250
Erin Shaw
https://www.sgu.edu/wp-content/uploads/2020/02/sgu-logo-grenada.svg
Erin Shaw
2016-08-18 17:18:14
2017-01-17 22:50:48
St. George's University's WHO Collaborating Center for Environmental And Occupational Health Re-Designated for Additional Four Years