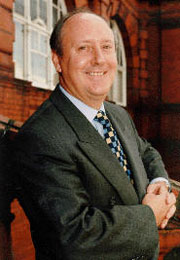 St. George's University School of Medicine (SGUSOM) officially welcomed a new class of medical students from 33 countries on August 23, 2009.  Sir Kenneth Calman, Chancellor of the University of Glasgow and valued friend of St. George's University delivered the Keynote Address.   Dr. Philip Lahrmann, a 1981 SGUSOM graduate and founder and president of Mansfield OB/GYN in Connecticut, served as Master of Ceremonies.
Sir Kenneth Calman's distinguished career in medicine and medical education afforded this new generation of medical students the opportunity to gain valuable insight and inspiration as they begin their medical careers.  Sir Kenneth addressed the symbolic significance of the White Coat Ceremony and its critical relevance to both their present lives as well as their future endeavors.  A familiar yet central part of the event showcases students swearing a professional oath, promising to act with integrity and in an ethical manner during their training and career in medicine.
Reflecting upon the different directions of his own 40-year career, Sir Kenneth referenced three specific themes throughout his speech: the inherent meaning of being part of the medical profession; the value of medicine; and the crucial importance of life-long learning.
Sir Kenneth expressed that doctors are part of a profession that is innately based on trust and respect.  "These two factors require considerable care and hard work…and can be easily lost," he said.  A proverb he referenced substantiated this belief.  "Trust comes on foot and goes on horseback."
The primary role of a doctor, explained Sir Kenneth, is to implement healing not just through diagnosis, but through caring and compassion.  He urged the audience to consider the doctor's place as a citizen in society as well; and in that capacity his duty to advocate, educate, foster change, lead, and learn to learn.  He explained that little of what he learned in medical school "in factual terms stood the test of time."   Knowledge bases change as science and medicine progress, and the idea of learning to learn is at "the heart of managing change."
In closing, our Keynote Speaker asked this group of future physicians to remember that the many facets of a doctor's purposeful career can be best defined by the words of guidance and compassion they provide a patient.
Born on Christmas Day 1941, Sir Kenneth Calman received his secondary education from the Allan Glen's School in Glasgow and went on to study at the University of Glasgow.  He entered medical school in 1959 and took two years out during this course to gain an honors degree in biochemistry.  He graduated in medicine (with commendation) in 1967, the recipient of many distinctions and prizes. During the latter part of his undergraduate medical career he developed an interest in dermatology and graduated with a PhD in Dermatology in 1970.
Sir Kenneth Calman moved into the Department of Surgery in Glasgow and proceeded to the Fellowship of the Royal College of Surgeons, as well as writing an MD thesis with honors on organ preservation. His clinical interests at this time were in general surgery, vascular surgery, and transplantation. In 1972, he was the MRC Clinical Research Fellow at the Chester Beatty Research Institute in London.  He returned to Glasgow in 1974 where he served as Professor of Oncology for ten years, developing particular interests in nutrition, chemotherapy, cancer education, counseling, and patient support groups.
In 1984 he became Dean of Postgraduate Medicine and Professor of Postgraduate Medical Education at the University of Glasgow and consultant physician with an interest in palliative care at Victoria Infirmary, Glasgow. During this time he was involved in developing medical education projects and in the supervision of medical education for those in training in the West of Scotland.
In 1989 he was appointed Chief Medical Officer at the Scottish Home and Health Department, and in September 1991 he became Chief Medical Officer in the Department of Health in London. Sir  Kenneth Calman served on the executive board of the World Health Organization, and as its chairman from 1998 to 1999. In addition, he has served as chairman of the European Environment and Health Committee from 1993 to 1998; as Vice Chancellor and Warden at the University of Durham from 1998 to 2007; as a member of the Nuffield Council on Bioethics and the Statistics Commission until 2007; and chaired the NHS Genetics Education Steering Group.
Sir Kenneth is currently a member of the Board of the British Library and chairs the National Cancer Research Institute. He is President of the British Medical Association and a member of the Board of Cancer Research UK. He is a fellow of numerous Royal Colleges and Faculties, and in 1979 was elected a Fellow of the Royal Society of Edinburgh. He has written seven books and over 100 scientific papers. His current academic interests are risk, storytelling, ethics, and education. Sir Kenneth has a number of outside interests including the history of medicine, Scottish literature, cartoons, and gardening. His most recent books include A Study of Storytelling, Humour and Learning in Medicine and A History of Medical Education. He lives in Glasgow and the Island of Arran, and is married with three grown children and a large dog.
https://www.sgu.edu/wp-content/uploads/2016/11/news-Sir-Kenneth-Calman.jpg
260
180
jrichardsink
https://www.sgu.edu/wp-content/uploads/2020/02/sgu-logo-grenada.svg
jrichardsink
2009-08-28 16:47:28
2017-01-18 01:50:25
Students from 33 Countries Take Oath at SOM White Coat